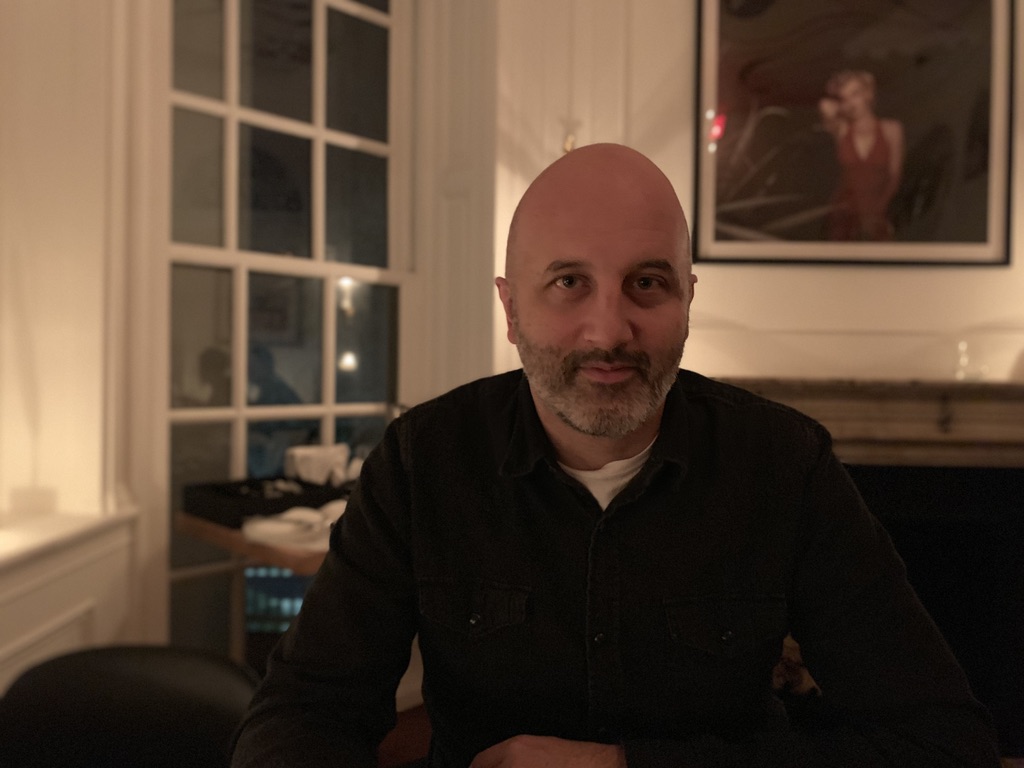 15 October 2022
David Wilson is a lifer. Having performed in indie rock band Miss Ohio for years, he formed Summer Husbands with fellow Miss Ohio bassist Ed Roessler and drummer Paul Sherrard a few years ago; and they've released three 4 song EPs to add to his already impressive catalogue. "The Only Reward" picks up where they left off on "A City, A Marriage", with songs with an existential current, touching on varying themes of love, consciousness, and the life of a musician.
The sounds are less guitar driven than in Miss Ohio, with more space and instrumentation displaying a contrast to Wilson's previous writing, but still maintaining his signature sound.
Big Takeover is excited to host the premiere of the track "Drink Tickets", his latest song chronicling musicianship and its highs and lows, once again showing the diversity of his writing and the storytelling within his craft. Wilson was nice enough to answer some questions for us about the upcoming EP as well.
The full EP will drop 11/11 via Pyrrhic Victory Recordings.
1. This is the band's 3rd 4 song EP since April 2021's self-titled "David Wilson and the Summer Husbands". Is it a series of sorts, was this an intentional release schedule?
DW: I try to record two EPs a year and to organize each one around an idea or sound. With this one, I was listening to a lot of late '70s singer-songwriter stuff, in particular Jackson Browne. I love the warmth of those records. I don't know that this EP necessarily sounds like any of those records, but it was certainly trying to write songs that could have come from that era.
2. Tell us about the new music, and the departure or break from Miss Ohio.
DW: The Summer Husbands stuff was a side project for years. It ultimately became my focus during COVID, since I could work on it in my home studio. Miss Ohio is very much a guitar-forward band. With the Summer Husbands, I try to use guitar sparingly, when needed, and to bring in other sonic elements. As for Miss Ohio, COVID obviously took the wind out of our sails. Last year, we were set to head back into the studio when an accident sidelined one of our members. We've been around for so long, though, that I can't imagine there will ever be an end. There will be more soon. We have the songs.
3. How do you remain inspired? You've been quite prolific over the years with Miss Ohio and now Summer Husbands.
DW: I heard once that Henry Miller once said "I write only when I'm inspired, but I'm inspired all of the time." I feel a bit like that as well. I just take a lot of joy out of making things, writing songs, recording them, playing them live. To be involved in music for a long time, I think you need to take joy out of all of the parts of the process. There's never been a particularly big audience for anything I've done, but that's a part I can't really control, so I don't worry about that. To circle back to inspiration, though, I think that it is something that feeds on itself. The more you create, the more you make it a habit of your being, the more likely you are to be inspired.
4. "You gave your life to this. You thought you'd get over it", "if the world don't need the songs you play, you'll do it anyway". Those are a couple of the many memorable lines from "Drink Tickets". Tell us about that song, including structure and the increasing use of horns in your songs.
DW: With Drink Tickets, I started with that last line "It's so good to be alive under a starry sky on a moonless night." And I had a memory of leaving a gig very late one night. It wasn't a particularly memorable gig, but I was just happy to have played it with my friends and to have hung out and been part of a musical community. I've never been one to write story songs, but I wanted to try to write a song that had a straight narrative and that was true to my experience. The horns are all by Summer Husband Ryan Anselmi, who I knew when we both lived in Jersey City but who has become my neighbor out in the suburbs. He has such a great ear and brings so much to the songs. It's a sonic dimension that I'd never really considered when I wrote songs, but that adds so much.
5. What is your recording process like?
DW: Years ago, the Summer Husbands recorded some tracks at Homebrew Studios. We never completed those recordings, but I revisited them in 2020. During COVID, I built out my home studio and focused on my own recording abilities. The EPs include stuff we recorded at Homebrew (mostly drums and bass) and stuff that I recorded entirely in my basement. Usually I start with a completed song and then build what I have in my head, but some songs, like The Only Reward, are literally written while I'm recording. For that one, I recorded the piano part and just let it sit for a while. Then, my pal and Miss Ohio/Summer Husbands bandmate Ed Roessler lent me this Strat that he had just done some work on. I've never really been into Strats, but this was one just amazing, so I used it to throw some stuff on the piano part. Then I added the drums and bass. The lyrics came last, which is unusual for me. I also used my family a bit on this record. My teenage daughter sings backing vocals on "Come Home" and my wife sings on "The Only Reward."
6. Are there live shows coming up to support the EP?
DW: Working on it.