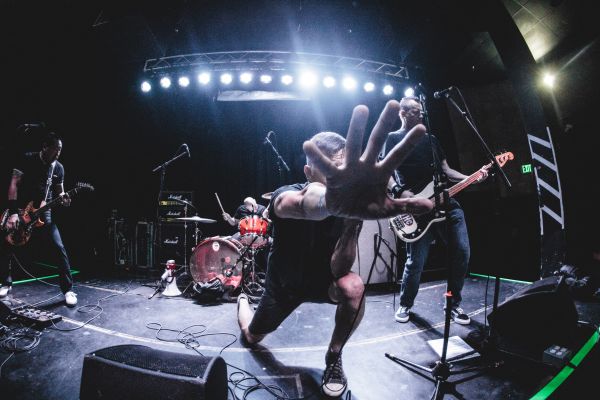 26 July 2019
Spider – live – Photo Credit: Jose Corona
Southern California-located classic punk band Spider drop their new EP, Energy Gone Wrong, today, July 26th (digitally) and August 9th (physical format) via CPYRT CNTRL RCRDS.
The EP release features two original songs, "Energy Gone Wrong" and "The Reeperbahn", plus a cover of Black Flag's "Depression." The Big Takeover is mighty stoked to host the premiere of the title track in all its propulsive and raging glory.
Vocalist Hector Martinez, guitarist Karl Izumi, bassist Jeff Abarta, and drummer Alf Silva fire on all cylinders on the speedy and sweeping "Energy Gone Wrong."
The blistering track roils with rousing sing-along refrains that collide with rapid-fire drum beats, fiery guitar immolation, and low-slung bass line dives. While the rocket-fuelled sonics careen with wild abandon, the lyrics, which partly deal with economic inequality and financial desperation, are sharply focused and socio-politically relevant.
The raw and visceral songs on Energy Gone Wrong capture the power of Spider's kinetic live performance. The band is well-known for their incendiary live shows throughout the SoCal region. Spider is supporting their EP release with U.S., U.K., and Europe tour dates.
The physical release is a limited edition 7" vinyl record offered in clear and white variants. Order the vinyl format HERE
TOUR DATES
Jul 26 London, UK
Jul 28 Bristol, UK
Jul 29 Amsterdam, NL
Jul 31 Leeds, UK
Aug 2 Manchester, UK
Aug 3 Blackpool, UK (Rebellion Festival)
Aug 16 Long Beach, CA
Sep 27 Los Angeles, CA
Nov 15 Santa Barbara, CA
Facebook
Twitter
Instagram
Spotify