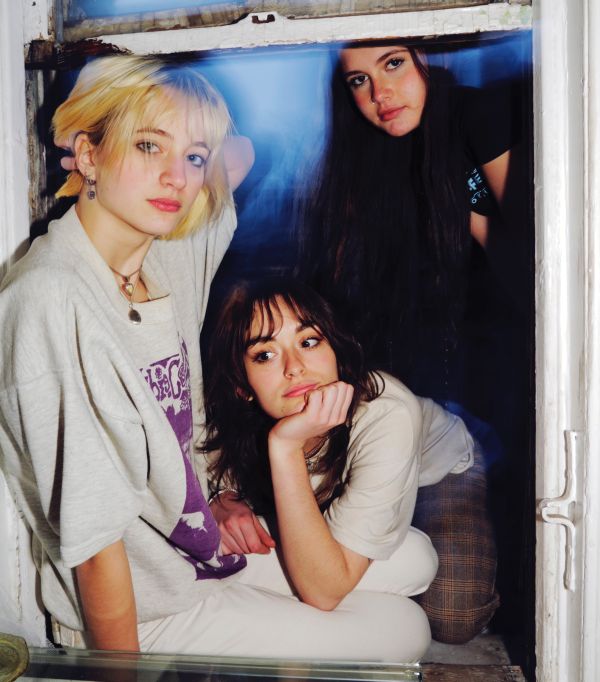 23 August 2021
Hello Mary – Photo Credit: Nikki Burnett
All under 21 years old, Helena (17), Mikaela (17), and Stella (20) of grunge-inspired alternative rock outfit Hello Mary have put out a full length LP, sold out shows all over New York City, and made fans out of beloved indie rock musicians like Julia Cumming and Tanya Donelly.
Today, Hello Mary has self-released their second single of the summer, "Evicted," a testament to how much they've grown since their debut album Ginger, and a taste of what fans can expect from their new music.
"We are very excited to be recording and releasing these new songs. They feel much more representative of our sound, and showcase how we've matured as songwriters and musicians," says Hello Mary.
Big Takeover is pleased to host the premiere of the enticing and turbulent track today.
A swirl of gritty guitars opens the number, which then ebbs into tuneful verses rife with sweetly yearning harmonies, supple bass line, and a strictly hit drum beat.
The chorus sections burst out with more active bass and drum patterns and a blaze of grinding guitars.
"Evicted," with its seething guitar and goosebump-inducing vocals, refines Hello Mary's signature blend of angelic harmonies and punchy alt-rock instrumentals that were inspired by '90s bands like the Breeders and Nirvana.
For this new chapter, Hello Mary has teamed up with veteran producer Bryce Goggin (Ramones, Pavement, LUNA) who also produced their previous single "Take Something," which dropped at the end of May. "Inspired songwriting and super talented musicians! A total joy to work with in the studio," Goggin relates.
With a new album in the works and tour dates on the horizon, you won't be able to keep your eyes (or ears) off Hello Mary!
TicketWeb
Spotify
Bandcamp
Facebook
Instagram