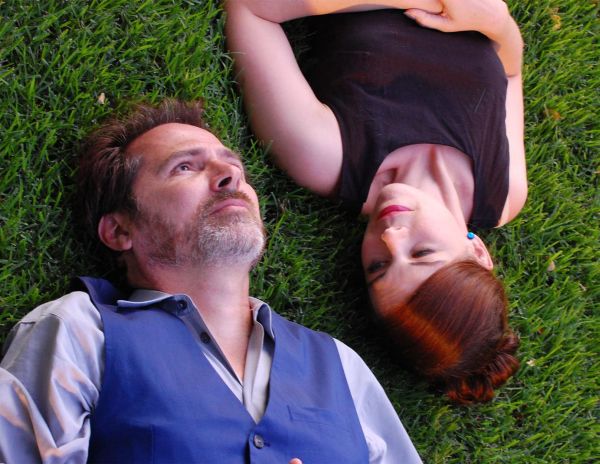 2 January 2019
I Am A Rocketship – Photo Credit: Gaya Ramachandran
With Atlanta being one of the emerging music hubs in the U.S., music lovers are increasingly turning their attention to bands hailing from this city, just as bands of all genres are scheduling in a stop on national and regional tours.
Today brings the premiere of a track from the music duo I Am a Rocketship, a Swedish-American electronic rock outfit based in this active city. 'Face Off' is the lead single from their forthcoming album Mind Grafitti. Giving us the first luscious sound-bite of their second album, this also happens to be a tribute to Led Zeppelin's album Physical Graffii.
I Am a Rocketship merges heady vocals and solid pop hooks and, on this track in particular, a steady rocking vibe that catches us amid the waves that will take us on trip along with these sonic captains. This is bound to please fans of The Kills, Yeah Yeah Yeahs, The White Stripes, Evanescence, and the Ting Tings. That's one zinger of a list of comparable bands, yet I Am A Rocketship sits perfectly amid them. The act's music is catchy as hell, seductively drawing you in and leaving you hanging on every note right to the last fading guitar line.
As a bassist, guitarist, and singer, Eric Weissinger had opened for bands such as The Wedding Present, The Black Crowes, James, Cracker, and Portastatic. After playing on an Anne Richmond Boston album featuring Syd Straw, Marti Jones, Don Dixon, and Terry Adams, he took a break from music until a chance meeting with L E Kippner changed everything.
A college radio DJ, choir member, cellist, and singer for Swedish synth-pop duo Neobox, L E Kippner's musical background could hardly have been more different than Eric's. Nonetheless, their shared love of Rammstein and Bob Dylan led them to form Hitchcock Blondes in Cleveland, Ohio. They then moved to Atlanta, creating I Am a Rocketship to free themselves from the restrictions of conventional bands.
Layering dark lyricism and fuzz guitars over pop grooves, they create a notably attractive hybrid sound. Their music is ideal for dancing the night away on an ancient sailboat manned by robots, lost at sea. The Mind Grafitti album follows their debut long-play Mission Control, which was released in 2016.
On this second LP release, the Atlanta duo blends classic rock, psychedelia, and trip-hop sounds. The 13-song collection features 12 original compositions, as well as distinctive cover of the Rammstein classic 'Du Hast'. Mind Grafitti was recorded on a notebook computer over the course a year in various locations.
"While physical graffiti is tagged by the artist, mind graffiti is tagged to infect our minds via lies and misdirection sprayed across glowing screens. The songs on this album are about confusion and reinvention – as individuals and as a society – in the era of mind graffiti," says guitarist, and principal songwriter Eric Weissinger.
"We're also going to make a few videos," says singer, keyboardist and co-writer L E Kippner. "Since we can't abandon our jobs to tour much, we put a lot of that energy into those, and I think they help share what the band is really about."
Their Influences are many, including the lyricism of Bob Dylan and Townes Van Zandt, soundscapes of Sigur Ros and Massive Attack, rhythms and adventurism of Run the Jewels and M.I.A., and the melodicism of Depeche Mode and Curve.
Mind Grafitti will be released on February 21st via the band's own My Long Wknd imprint. It will be available across leading digital sales and streaming platforms. As of Friday, January 4the, the album will also be available for pre-order via Bandcamp
The album will be supported by local and regional live performances, but another interesting event should be happening for the band already this Friday, January 4th, when they premiere their new video for 'Face Off'. It's happening at 7pm EST via YouTube
TRACK LIST
01 Face Off
02 Vertigo
03 Intermittent
04 Hot in Here
05 Castaway
06 Kick
07 Take Your Time
08 Regret
09 Mind Grafitti
10 Du Hast
11 High Above it All
12 Closing Credits
The Big Takeover is delighted to host the premiere of the genre-melding "Face Off", the name of which is tuned into the shifting sounds that overtake each other of the potent track. The one constant is Kippner's strong, yet alluring vocals while the instrumentation winds along, moving from a laid-back, island-like drum beat opposed by buzzing and then burning guitar lines, to a rising pace that's filled with drawn strings and warm saxophone, before it dives back into the rock format of its start.
Website
Facebook
Bandcamp
Instagram
SoundCloud
YouTube
Spotify
iTunes