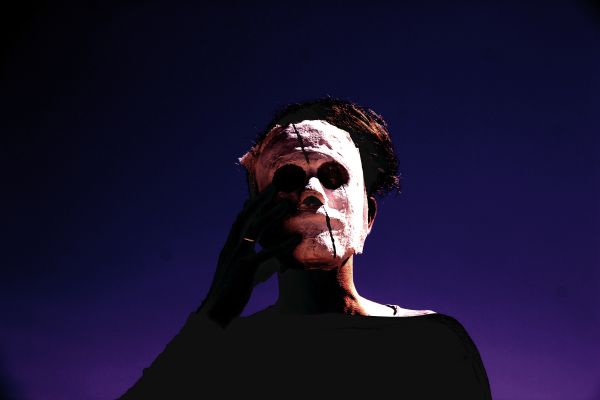 24 June 2020
Vlimmer – Photo courtesy of Vlimmer
With parts 16 & 17 now completed and ready to be released, German-based indie outfit Vlimmer is about to reach the end of the 18-chapter story they started in 2015.
The protagonist, a young man looking for the purpose of his life has just returned from a time travel disaster which revealed that his father literally wasn't the person he thought he was, in addition he met himself when he was still in his mother's womb which caused his body to break in two.
He returns to the present but isn't the man he was before. He feels a terrible hate about the society he lives in an commits a murder which eventually has him convicted in a weird hospital coma court case in which he watches himself through the eyes of others.
The music on XIIIIII (16) is direct, upbeat, and straight-forward (dark)wave, post-punk, and shoegaze — while XIIIIIII (17) provides the music for a more comatose atmosphere; deep and bleak.
Big Takeover is pleased to host the premiere of the Cure-like, conflicted "Falter,"taken from part 17. It's a half-reverie/half rumination, with the main character in musing mode, his head full of emotional turmoil A dreamy and mysterious ambiance envelops him as he winds his way through his questioning thoughts (sung in wistfully pleading German).
Vlimmer main man Alexander Leonard Donat reveals, ""Falter" is the most hopeful, yet still desperate moment on an EP that is otherwise a mix of sadness and darkness. The protagonist is fixed on a bed or a cot, and he's either in a mental hospital or in court. The judge or the doctor is talking to him, but all he really cares about are the creatures around him. One of them is a woman he met six chapters ago. He fell in love with her at a music venue, but didn't have the courage to tell her about his feelings before their ways parted."
"Being in a transluscent state of uncertainty he's convinced that she would have had the power to give his life a meaning. Feeling her hands on his hands he doesn't dare opening his eyes because deep in his heart he knows she's not there, his mind is playing tricks. Still he thinks: "Your hand fits into my hand, it must be you." He feels the golden light surrounding him and hopes that someone folds him like a piece of paper, he has seen enough of the world. The zither solo tries to give the song a moment of brightness before everything caves in."
The double EP of parts 16 and 17 will be released on July 17th via Blackjack Illuminist Records.
Blackjack Illuminist Records Bandcamp
Vlimmer Facebook