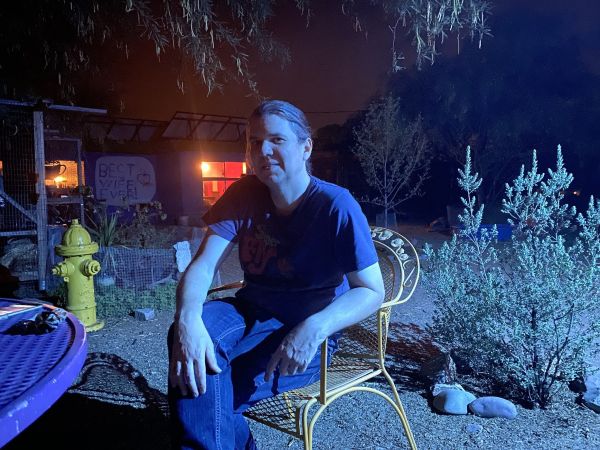 7 September 2020
Andrew Gardner of La Cerca – Photo courtesy of Andrew Gardner
Tucson, AZ-based ambient/psych-rock band La Cerca will be releasing their fifth album, A Nice Sweet Getaway, on September 25th via Fort Lowell Records. The LP showcases a sonic slideshow of multiple dimensions, with looped guitars and reflective ambiance emanating like waves under the Sonoran Desert sun.
The 11-tracks offer an endless source of inspiration, taking the listener on an exploratory excursion of learning and experimenting with a two-track recording device. The mostly (though not all) improvisational compositions meld together the radiation of fuzz, delay and modulation in a living room setting, with intimate microphone placement capturing the essence of musical movement in the room.
A Nice Sweet Getaway wends through empathetic sensitivities of unrest from stirring up dormant feelings and ideas after a protest; it is a personal voyage of love and memory ruminating on life's travels…
La Cerca is the wellspring of Andrew Gardner, who is joined by other musicians including Bill Oberdick, Rick Bailey, Roger Reed, Nick Cashman, Brian Green, and Dani Ponci.
Big Takeover is please to host the video premiere of "Free of Expectation," a gently guided ambient number that glows with shining, slowly drawn out guitar curves, like the unhurried downing of the sun over a desert landscape at the end of the evening. Occasional crackles of light percussion and echoing reverb mimic the sound of insects and plants getting ready to rest from the day.
The video clip, which was done by Jason Marrano, mirrors this gradually slowing down feeling, with close-up images and longer views of the natural world, including focused shots of cacti and other desert flora swaying in the light breeze. Dusky purple and faded red shadows signal the approach of night, under a partially cloudy sky. Soon a half-moon comes into view, completing the cycle of the day…
Website
Facebook
Twitter
Instagram