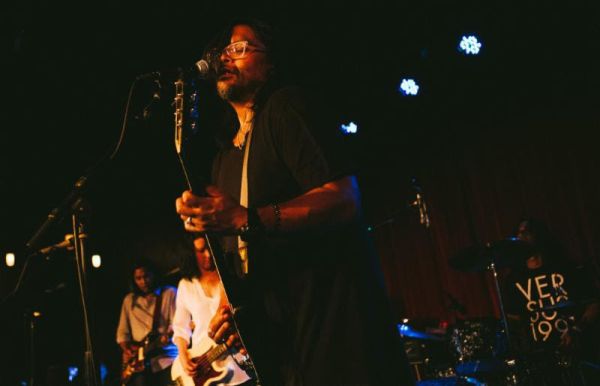 11 July 2019
Versus – live – Photo Credit: Chris Sikich
Renowned NYC-based indie rock band Versus returns to the musical fore with new album, Ex Voto, their first full-length in nine years. Ex Voto will arrive on August 16th via Ernest Jenning Record Co..
Anyone who grew up in the 1990s and had their ears tuned to indie/college radio will know about the venerable and exciting Versus. They were one of the bedrock independent acts of that era, releasing music on record labels Teen-beat, Caroline, and Merge – and now some near-30 years later, Versus are still standing, as vital and influential as ever.
This has been a banner year for the band, with the Ex Nihilo EP under their belts, shows supporting the likes of Ex Hex, and a triumphant return to SXSW. They'll be celebrating the release of Ex Voto with fellow Ernest Jenning rockers SAVAK at Baby's All Right on July 12th, along with Big Bliss.
Brooklyn Vegan recently shared "Mummified", the lead single off the album, and now The Big Takeover is proud to host the premiere of spacey and vibrant stunner "Gravity", the second single from the LP.
"Gravity" orbits into the outer reaches with high and wavering synths, a loping bass line, sharp guitar chime from James Baluyut, and a kicky drum beat courtesy of Edward Baluyut. Frontman Richard Baluyut sings with rich emotion in the midst of the sweeping sonics.
On the chorus sections of "Gravity", his vocals are bolstered by the addition of bassist Fontaine Toups' airier range, which takes on a mechanized edge midway through the track.
The second half of "Gravity" expands into a dreamier, psych-tinged atmosphere rife with urgent synths and layered vocals press. The lyrics, however, are bitter and dark in contrast, with Richard Baluyut ruminating upon "the prison of our love""…
Stay tuned for more news and music from Versus in the coming weeks.
TOUR DATES
July 12, Brooklyn NY – Baby's All Right w/ Savak, Big Bliss
Aug 25 – LA, CA – ECHO
Aug 26 – San Francisco, CA – Bottom of the Hill
Aug 28 – Portland, OR – Doug Fir
Aug 29 – Seattle, WA – TBD
Oct 17 Holyoke, MA – Gateway City Arts w/ LUNA
OCT 19 NY, NY – Bowery Ballroom w/ LUNA