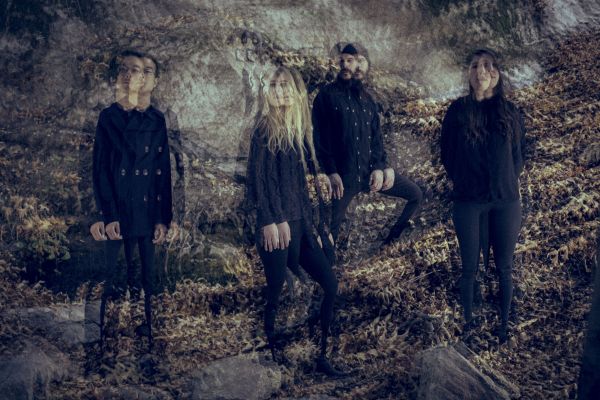 2 September 2020
Iress – Photo Credit: David Fearn
Los Angeles-located atmospheric rock band Iress will release their highly anticipated heavy, yet melodic new album Flaw on September 18th.
The LP was recorded and produced by Sarah Tudzin, mixed by Collin Pastore, and mastered by Jett Galindo, Flaw was recorded at the Sunset House at Sunset Sound, Sonora Recorders, and the Snack Shack in Highland Park.
Band members Michelle Malley, Alex Moreno, Michael Maldonado, and Glenn Chu unveil a commanding 'doomgaze' sound that is driven by thickly textured guitar ambiance, lively bass lines, weighty drumming, and potent ethereal to emotive vocals.
Over the past several years the band has gained acclaim for their music that submerges the listener into another world of reveries and turmoil. Their powerful live performances and raw talent have brought them attention ,which have landed them opening spots for high-caliber acts such as Brutus, Slothrust, and Sunflower Bean.
Flaw delves into themes that range from heartache to addiction to loss of faith, The LP aims to address the complexities of the human condition. Iress draws from its Southern Californian roots with a recurring ocean theme throughout the album; one of depth, calm, and renewal.
Iress has released a string of singles ("Shamed," "Underneath," and "Nest") since the end of December 2019, and Big Takeover is stoked to host the premiere of "Hand Tremor," a compelling slow-burner that opens with reflective, yet gleaming acoustic guitar lines and rolls out in a measured wave of velvety vocal melancholia. Achingly vulnerable emotions rise to the surface as the gentle guitar motif mirrors the downcast rumination.
About the song, the band reveals, ""Hand Tremor," one of the first songs written for the album, was created one afternoon at home while we (Alex and Michelle) lived together in Echo Park. It addresses the battle between tenderness and isolation and the internal fight between giving in and being vulnerable.."
Pre-Order Flaw at Bandcamp
Website
Facebook
Twitter
Instagram
YouTube
Spotify
Apple Music