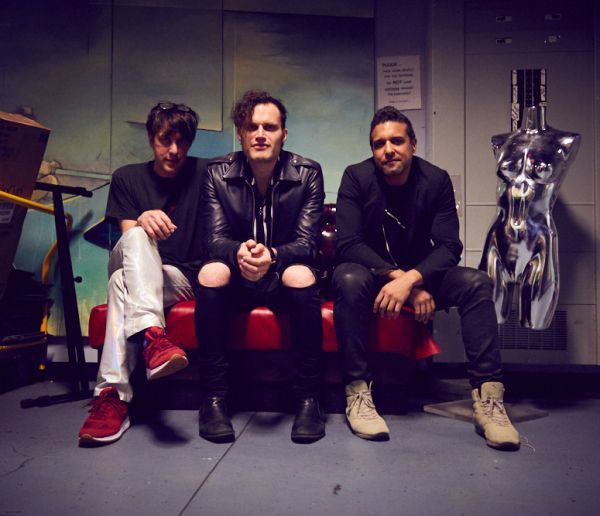 11 December 2018
HOLY WOW! – Photo courtesy of HOLY WOW!
HOLY WOW! is a gothic/electro/garage rock filtered through the deeply personal lens of Russian-born, New York and California-raised creative Dmitry Wild.
Wild and his many bands have been a long-time fixture in the NYC music scene. He's worked in the groups Table Dreams, who received local acclaim among the NYC immigrant scene, Wild Things, the band he formed with his wife Jennifer Claroscura of the Peruvian cult band Electro-Z, California-based band Weapons of the Future, considered the Bay Area's goth breakthrough act, and back in New York, Wizard Sex, retro publicity darlings who landed a lead-off track for a Classic Rock magazine compilation CD.
After Wild's father fell ill and passed away, he shelved those collaborative projects and decided to create music on his own terms. Life is too short and Wild knew he wanted to realize his dreams before it was too late. In 2016 he formed HOLY WOW!, positioning himself for the first time as the sole creative spearhead.
The official HOLY WOW! debut album, Modern Ancient Man, is due out January 25th and boasts an impressive collection of philosophically rich, romantic songs, built upon electric back-beats and distorted melodic guitars, with Gothic undertones that fall in line with the richly romantic sound coined by The Cramps and Jesus and Mary Chain, yet their hooks are more modern and stadium-ready, reminiscent of The Killers, MGMT, and the Dandy Warhols.
"I feel this release really embodies the mystic essence of HOLY WOW!", Wild asserts, citing the cryptic nature of the band's name. "It's sacred, yet with commercial appeal."
The Big Takeover is pleased to host the premiere of "Hey Dragon", a pumped-up, energetic electro/dance-rock number that strides along confidently with sizzlin' guitar buzz, a strutting drum beat, and Wild's direct vocals sent through a filter and backed by urgent female vocals.
The bass turnaround before the chorus is a thing of beauty, priming the mosh pit for the barn-burning stomp of the chorus. It's an up-tempo track that flirts with the fine line between industrial noise and catchy melody and wins listeners' undivided attention.
And view the new video that arrived on July 26th, 2019:
Website
Facebook
Twitter
Instagram
YouTube