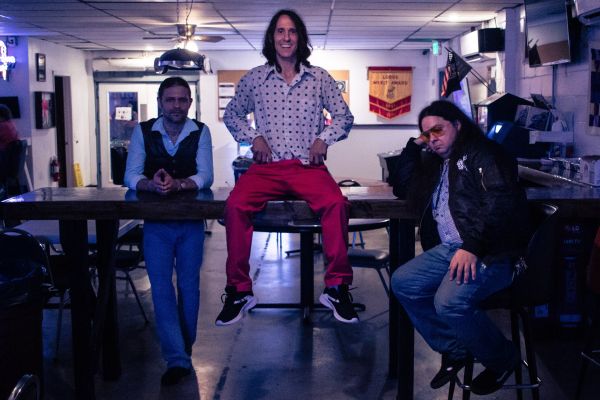 6 December 2021
DigDog – Photo Credit: Charlie Shuck
For any number of reasons, people are displaced and looking for new locations to call home. When the they finally settle in a place, they find that the truest search was not for home but, for family. When is found, new bonds are formed and a new future dawns. This is the story of DigDog.
DigDog is the product of Florida's Brad Metz, Russian dynamo Alexei Dotsenko, and man of the world Jack Ringca.
Three very different minds, from very different places, with very different backgrounds, finding each other and resulting in high energy rock 'n' roll with a very different flavor. With traces of virtuosic classical musicianship, quirky progressive songwriting, post-punk spirit, and so much more, DigDog are emerging from the trials of the last two years with an album of fresh sounds, and a new approach.
While DigDog do have previous releases, the band have spent the time during the pandemic to refocus and produce an album that feels like a true debut.
Much of 2020 was spent holed up writing, editing, and rewriting the batch of songs that would become their new release, Homeless Theatre.
The result is an experience that ensures feelings of positivity, resolve, joy, and determination. In the end, the album will leave you knowing that you not only found a sonic landscape to call home but, also a new trio of people to call family.
Big Takeover is pleased to host the premiere of "Highfingers," an engaging track from the LP. It starts off with mellifluous picked guitar notes, and then segues into a loping pace of relaxed drum thumb, groaning bass line push, and a tangy guitar shine.
The lyrics are sharp, detailing the challenges of life and relationships, and sung with a sardonic edge. The song intensifies near its end, with a swell of instrumentation and vocals that finish the song off with a vibrant flourish.
Frontman Brad Metz unveils some details about "'Highfingers", stating, "Sometimes you have certain expectations in life that go unmet and as you grow older, people you love start dying. This song was written as a way to cope with that and to make success relative to us. Love and create something."
Lyrics…
We are one, but are we all the same?
Some people are on drugs, and some people own airplanes
Possessions you can't keep, put your loved ones in the ground
It's a hard pill to swallow, but it has to go down
Out on the run, you're a rat in the race
Keep running around in circles until you make a change
Living out this dream, each bed's individually made
One day you will not wake up, and it will be too late
How much is choice?
How much is fate?
How much difference can we make?
Expectations can be crippling, standards can't explain
We need to be legitimized by meaningless accolades
So much gets lost
Overcomplicate
So much is elusive when there are so many ways
Gets hard to see
Love me 'til I cease to be
All seems lost
Is it too late?
All you can do is love and create
I'm not proud
And I'm not ashamed
The only label that you'll ever need is your name
You are the ghost controlling the train
One day you will not wake up
And it will be too late