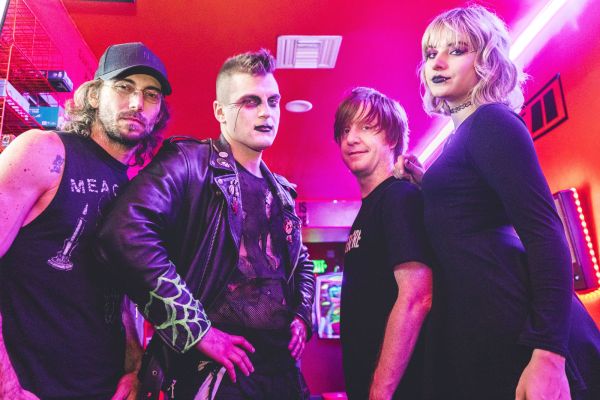 12 May 2020
Vision Video – Photo Credit: Jaysen Michael
Georgia certainly has been a hotbed of activity in terms of the musical scene over the past few years – not to say that it already wasn't booming over the previous three decades, beginning with legends such as REM, Pylon, The B-52s, and Indigo Girls, for instance.
Today the music scene in Athens looks very different than it did back then, as is apparent from the creation of the documentary Athens, GA / Inside-Out 30 years ago. Now known for a variety of sounds, including hip-hop, synthpop, folk, and indie rock, Athens is also home to the band we are pleased to present to you today.
Vision Video is a post-punk New Wave outfit and we are pleased to present their debut single 'In My Side', a shimmery and boppin' pop number with brilliant weavings of the sound that has made Joy Division and The Cure so loved. The briskly flowing b-side 'Inked In Red' canters by with mellifluous guitar chime, bittersweet synth strings, and achingly yearning vocals.
Named after a local video rental store (now out of business), partly due to nostalgia for a fave Friday movie rituals and partly to keep a piece of Athens history alive, their music is influenced by Bauhaus, Joy Division, The Cure, The Smiths, Type O Negative, The Clash, Washed Out and New Order.
Formed in March 2018, Vision Video is vocalist and guitarist Dusty Gannon, Emily Fredock on vocals and keys, drummer Jason Fusco (Shehehe), and bassist Dan Geller (I Am the World Trade Center, The Agenda). Famed producer Tom Ashton (of The March Violets and Clan of Xymox) recorded and mixed these tracks at Athens' Sub Von Studios.
After returning from Afghanistan, where he as an Army Infantry Officer, Gannon now serves on a new frontline as both paramedic and firefighter. These experiences inform Vision Video's songwriting, resulting in a serious look at the dark side of humanity processed through a retro-goth filter.
"Lyrically, 'In My Side' is about trying to find normalcy in relationships that are inherently toxic or detrimental. I think it's easy to conceptually understand that someone isn't right or healthy for you, but the reality is often so much more complicated because we don't choose who we love. I likened this to being hunted down by a serial killer in the song. It's also sort of my homage to 80's horror and slasher flicks. The idea is that you can try all you might to get away from this person, but sometimes there's no denying it, no running from those feelings, despite the red flags," says Dusty Gannon.
"B-side 'Inked in Red' is a song I wrote about trying to find meaning in post-war life. I was trained to be a soldier, whose job it is to kill, for such a long time. Once that experience ended, I had a lot of difficulty seeing myself fitting into civil society. This is a song about feeling like you're just in the wrong place and time, and that it's just not ever going to change, even though you're doing everything you can to find new meaning and contentment."
Like the sonic alchemists they are, Video Vision pits light against dark, following highs with lows, dark swaying rock with steady and pointed post-punk assassination. Here we have the best of 80s goth rock and new wave and more modern post-punk and emo lushness. Seemingly inspired by Peter Hook, the bass-lines are particularly catchy amidst the vivacious backdrop.
Dusty Gannon explains how things came together: "I worked with Jason at the Georgia Theatre bar and told him about some goth-rock and post punk songs I had been working on. He was quick to offer to play some drums. Eventually we had quickly written 3 or 4 songs very organically and effortlessly. Dan heard about us through mutual friends. He had sworn to never play in another band, but we brought him out of retirement, so to speak."
Emily soon joined and everything came full circle. "I used to sneak into Go Bar to see Dan DJ parties and play with his synthpop band 'I Am the World Trade Center'. I was fascinated by how well they got a crowd going. It had a huge impact on my desire to play music. Little did I know I'd be close friends and in a band with him 12 years later," says Gannon.
"I met Tom Ashton at a Goth Night that I DJed a few years ago. I have been a big fan of The March Violets since I was a teenager. Pretty bad-ass to record with someone whom wrote music that helped shape your musical taste."
'In My Side / Inked In Red' is out now across digital platforms. Fans can anticipate their debut album later this year.
CREDITS
Written by Dusty Gannon
Performed by Vision Video
Recorded and mixed by Tom Ashton (March Violets, Clan of Xymox) at Sub Von Studios.
Mastered by Joel Hatstat at High Jump Studio
Dusty Gannon – Vocals and Guitar
Emily Fredock- Vocals and keys
Jason Fusco- Vocals and drums
Dan Geller – Bass
7" Single Cover Art by Ryan Dunn
Photos by Jaysen Michael of Secret Playground Photography
VISION VIDEO
Instagram
Facebook
Bandcamp
SoundCloud
YouTube
Spotify