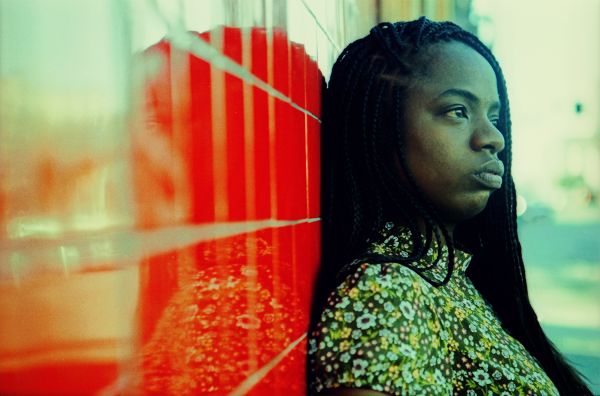 2 March 2021
Sunny War – Photo Credit: Florencia P Marano
During a year of intense disruption, every artist has had to redefine their career. For former street performer and breakout Americana star Sunny War, this redefinition pulled her towards her community and towards a new look at the power of activism.
With a new album, Simple Syrup, coming March 26th, War's new single, "Its Name Is Fear," looks unflinchingly at COVID and the effect it's had on everyone. Big Takeover is deeply pleased to host the premiere of the lyrically powerful and culturally relevant song today.
Gently strummed mellifluous acoustic guitar flows like a sparkling stream, accompanying War as she wistfully sings about shedding our past lives and confronting – and partially adapting to – the current pandemic.
"There's a new game / Its name is fear" is the chorus of the song and it speaks both to the pandemic fears surrounding everyone and also to the fear of Black artists today; a fear by the white institutions gate-keeping American culture, and a rallying cry for the many who took to the streets to proclaim that Black Lives Matter.
War herself was on the streets protesting for BLM, and her incendiary single at the time, "Orange Man," is a harsh critique of Trump. At the same time, War, who lives in Los Angeles, was haunted by the rampant homelessness epidemic in the city. Having been homeless in her youth, she was inspired to start a Los Angeles chapter of the non-profit Food Not Bombs to help feed and clothe the homeless in LA.
"I was living in downtown LA," she says, "and I was passing through the tent city a lot to go downtown and just kind of feeling like it was weird to always pass it by. You try to turn it off walking past, but it takes up such a huge area, and now it's all over LA. I used to eat at Food not Bombs when I was homeless up North. I remembered that was kind of the only time I really ate at one point. There's sort of a sense of community. To have a meal and have people talk to you, and to feel like there's someone who consistently shows up and checks in."
Moving from the street protests that she'd been going to since she was a part of the punk community to on-the-ground direct activism was a revelation for War and a way of coping with the isolation of COVID. It was also a way to create something positive at a time when everything seemed so insane.
"I can't do much," she says, "but Food Not Bombs helps us come together as a community and realize that we are a community. Now I see people every week and we know each other. It's also about not looking away when you see somebody in this situation. Maybe I could be an activist if I don't think of everything as impossible."
At the same time, War was recording her new album at Hen House Studios in her favorite spot in LA, Venice Beach. It was on the Venice boardwalks that she first cut her teeth as a folk artist, playing guitar runs so dazzling and virtuosic that they inspired passersby to stop.
Hen House Studios has created its own community near the boardwalk with artists like Particle Kid (Willie Nelson's son Micah), LA avant-jazz musicians Black Nile, and Rastafarian elder Ras Michael stopping by to record and hang out.
Most of the songs on War's new album were written before COVID, because, like most artists, she's found it hard to make new art during a time of such stress.
"Its Name is Fear" is the only song she wrote during the pandemic and it's clearly written in response to our common emotions of feeling trapped right now: "I hear birds sing from my window / Wish they could teach me to be free / Took for granted when I was though / Now prison walls close in on me / The life we knew it came and went / Ready or not the change is here."
Still, like all of us, War is hopeful for what we can achieve together during a pandemic and is looking ahead to its end.
"I hope we can overcome COVID, like the whole world. That's my main hope, I guess. We can't deal with any of our problems until that's solved. But I also hope some really cool art is made by everybody. It does have the potential. It's fucked-up, but the best shit comes out of the most fucked-up times. I hope that if we're still in quarantine, maybe we have some cool shit to work with, at least."
PRE-ORDER Simple Syrup at Hen House Studios BANDCAMP
VINYL ORDER of Simple Syrup at Org Music
SOCIAL LINKS
Website
Facebook
Twitter
Instagram