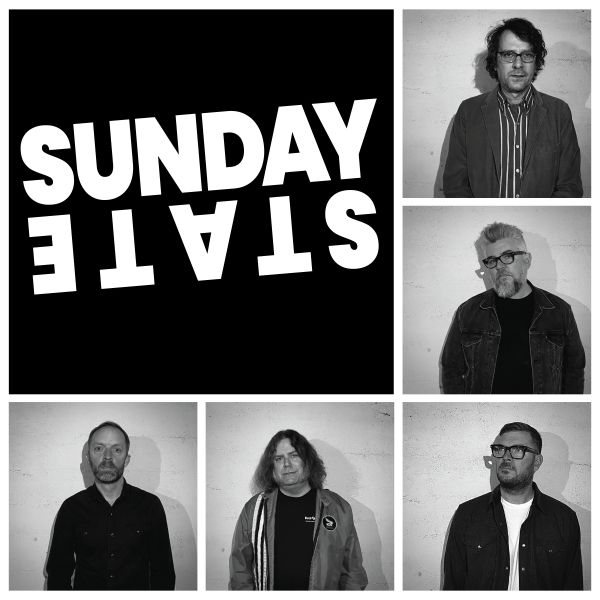 1 March 2021
Sunday State – Photo Credit: Sunday State
Sunday State began with Michael Carothers and Kurt Foster, two long-time musicians in the band-breeding ground of the Pacific Northwest who had known each other for 20 years casually asking, "Hey, wanna write a few songs together?"
They began digging into instrumental demos Carothers had created and soon recruited Jeremy Dietz (Mission Spotlight) on bass, Thom Sullivan (The Pynnacles) on drums, and Steve Turner (Mudhoney, Green River) with his fuzzed-out guitar work.
Their sounds has been fittingly described as a, "post-punk, campfire sing-along sound complete with cinematic landscapes tethered to jangle riffs rooted in shared influences."
Sunday State are preparing to release their debut album, which will arrive on April 2nd via No Night Travel Recordings.
Big Takeover is pleased to host the premiere of the engaging track "White Pine County" from the upcoming LP.
"White Pine County" speaks to battling with the conflicting desire to run from the darkness, or fight it and bury it.  Its an anthemic tune that sounds like it came from a group of space cowboys, blasting off from their basement command center.
The song moves along at a brisk pace, sprinting by with crunchy guitar riffs, a running bass line, agitated tambourine shake, punchy drum strikes, and direct and urgent vocals.
The single is one of several tracks that were recorded with Ken Stringfellow (The Posies, Big Star) at his studio in Seattle, though the lion's share of the engineering, recording, and mixing on the album was done by Larry Crane at Jackpot! Recording Studio in the band's hometown of Portland, Oregon.
In addition to a guest performance by Stringfellow, the album includes appearances from two of the band's musical heroes, Scott McCaughey (The Minus 5, Young Fresh Fellows) and Jenny Conlee (The Decemberists, Black Prairie).

Kurt Foster relates, "I've written plenty of song lyrics on airplanes—enough to match the punch-drunk number of flights. But it's different when you're on the way to your best friend's funeral. Years before my friend asked me if I might help bury his "problems" in the emptiness that frames Eastern Nevada. His request felt like some dark joke at the time. I counseled him during many a brown liquor-fed night under the burnt hue of Old Town Las Vegas, [and] it was more likely that his problems would, in fact, bury him."
"And in the end, they did."
"When Michael presented the music to the band, the song took off like a feral cat after a bird. I can clearly remember everyone's initial reactions: head nods and wide grins; a few weeks later, we took the song to Ken Stringfellow in Seattle to record and it was confirmed. our song came alive: fast, direct, and emotional. Ken jumped in with some harmonies and the head nods continued in the sound booth."
Ken Stringfellow comments on Sunday State's session with him that resulted in tracking "White Pine County":
"It's a live in-studio recording, with all the pure energy that comes with it! I loved setting up this big complex in-studio set up with live musicians…and the results are stellar!"
Preorder Sunday State's debut album at No Night Travel Recordings' Bandcamp