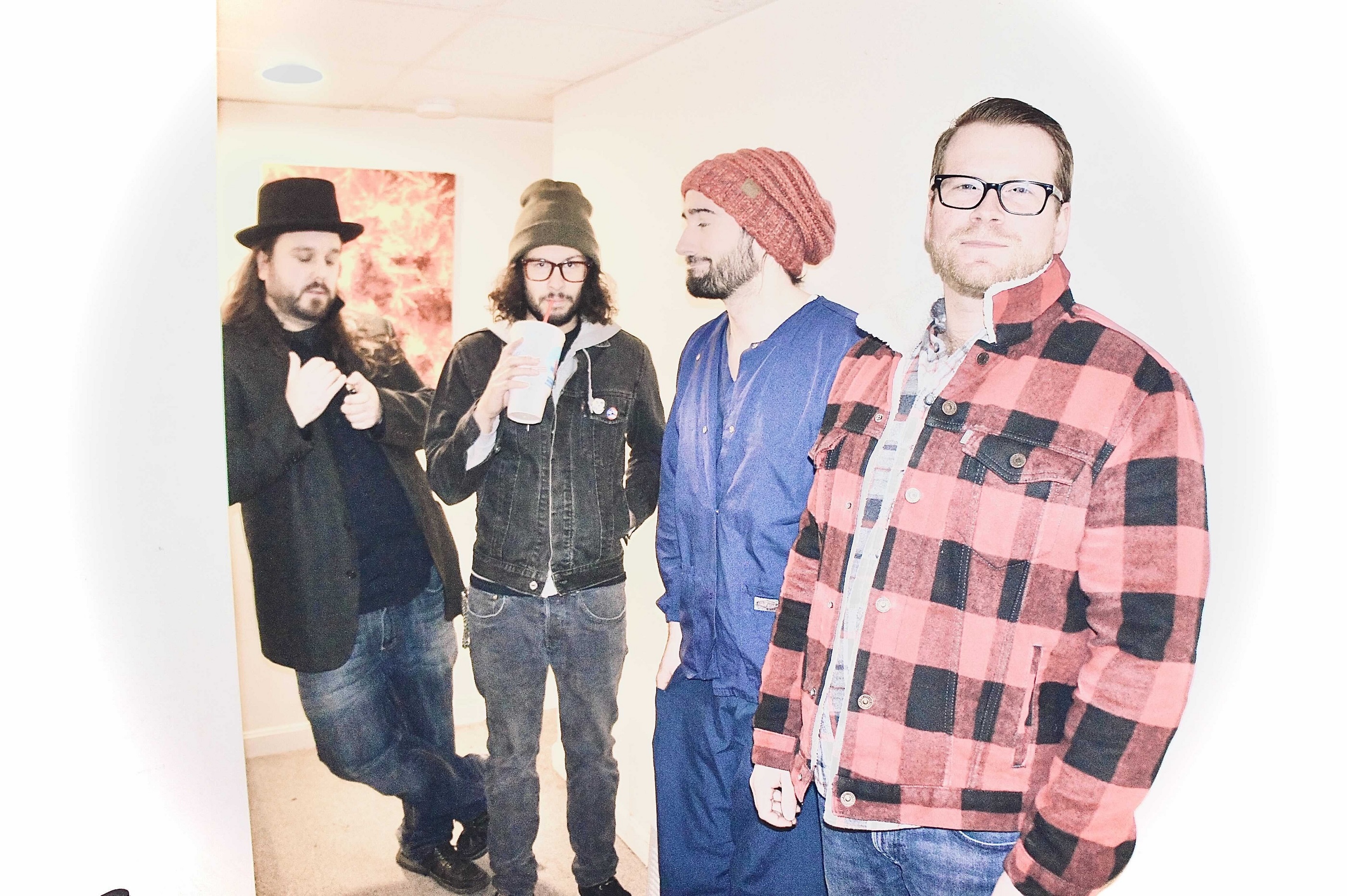 15 June 2022
After all we've been through over the past few years, there's been a lot of talk recently about the healing quality of music from a listener's perspective. But music has that same kind of power for bands, artists, and musicians, and sometimes writing a new song is just as therapeutic as hearing one. That sentiment is at the core of Sunshine Riot's boisterous new single "Just Say So," which The Big Takeover exclusively premieres today ahead of its Friday release.
"Just Say So," with its nods to The Replacements and Cheap Trick, is the first new music from the Boston alt-rock band Sunshine Riot's forthcoming September EP Sparkle Baby 2000, recorded with producer George Dussault at Galilee Studios in Cumberland, Rhode Island, and mastered by David Glaser. This new song and record follows last year's Electrical Tape EP, which the band recorded with engineer Steve Albini at Electrical Audio in Chicago, and finds Sunshine Riot appreciating the simple ability to make music in difficult times.
"'Just Say So' is a song about writing songs," says vocalist and guitarist Jonny Orton. "More specifically I think it's really about the healing power of music, trite as that may sound – I believe in it. As we've gotten on in years as a band, I've come to appreciate just how therapeutic writing and playing songs is for all of us."
Where the intense Electrical Tape served as a release of pent-up frustration displayed through Sunshine Riot's aural brand of grunge whiplash, the contents of Sparkle Baby 2000 find the band developing a more eased approach to songwriting and musical craftsmanship. It builds upon the chemistry Sunshine Riot have developed over their career, and adds some power-pop and modern rock influences into the band's traditionally guitar-fueled approach.
"Well, we've been at this a long time and I hope, in good ways, that shows up on wax," adds Orton. "We've probably written hundreds of songs over the past decade plus. The majority of those don't even make it to the stage, much less the records – but I do think somewhere along the way we've figured a few things out about writing rock and roll music. Ultimately, I think we are as comfortable as we've ever been being who we are; a slightly weird, fairly loud, and categorically unpretentious rock and roll outfit."
And that shines through on the infectious "Just Say So"; its June 17 release firmly entering it in the annual Song of the Summer sweepstakes. It's an uninhibited, drum-driven, upbeat tune that shows exactly where Sunshine Riot are, creatively, in 2022.
"We're locked in, chemistry-wise," says drummer Steven Shepherd. "Everyone gets a shot at writing. No bad ideas. Nothing new, really. We just never stop writing or playing! No songs are alike on this record. It's just a free-for-all communal writing session."
The loose and open exchange of ideas is what saved "Just Say So" from being left on the proverbial cutting room floor. During its demo stage, Orton was working on a few chord progressions "that kind of walked across the fretboard," pairing it with some selections from his endless batch of lyric sheets, and ultimately brought it to the band. Shepherd worked out the arrangement, helping shape it into a song, but not before bassist Jeff Sullivan and guitarist Mark Tetreault rounded it out by speeding it up and developing its lead riff, respectively.
"Jonny came to us with this song and it was very, very slow," Sullivan says. "I remember hearing it in my head and speeding it up, slowing it down and thinking how it could work, and speeding it up seemed to be the way to go. While I have a bias here – I'm always trying to speed up our songs – it really freakin' worked out this time. And then Mark came in with his insanely catchy lead. I can't believe he made that work. It was, if not genius, then serious lateral thinking around how a song is created. I think many people may think that a lead guitar riff comes first in the writing process, and then everything is built around that. Mark doesn't work that way, and it's freakin' awesome."
If Electrical Tape was the drunken late-night party, this new EP is the morning-after hang as the bar re-opens; a little less primal, a little more reflective. It could be deemed a shift in sound for Sunshine Riot, but in reality, it's just a natural progression for a bunch of dudes comfortable in their own songwriting skin.
"I think each record we do feels like its own thing," says Orton. "At any point in time, what we release is essentially the best of what we're working on at that time. These sessions allowed a bit more production and experimentation than did the Electrical Tape sessions, and that probably shows on tracks where we've done things like brought in horns, etc. There are advantages to being able to record slowly over multiple sessions, but there are also advantages to being forced to work on a razor tight timeline – as was the case with Electrical Tape. I think you learn over time how to do each."
Take it with you below.
Website
Instagram
Facebook
Bandcamp