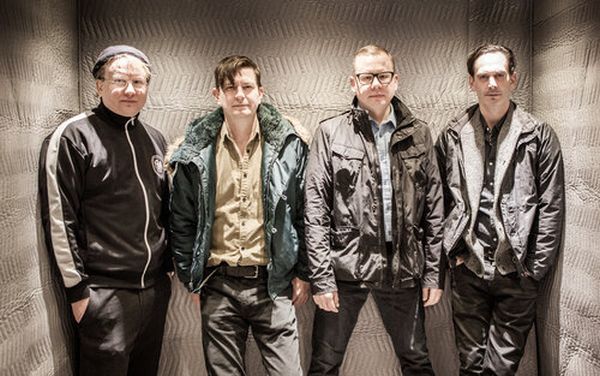 6 September 2021
Eldridge Rodriguez – Photo Credit: Patrick Ruth
In late February 2020 Midriff Records put out the 8th release by Boston-based indie rock/noise pop outfit Eldridge Rodriguez.
Titled Slightest of Treason, the album was inspired in part by the shift toward conservative dogma in US politics, and a reaction against it.
Eldridge Rodriguez planned on supporting the release with live shows starting with their record release party at Great Scott in Boston in mid/late March.
But by mid-March the live music scene was dead, most media outlets were stymied, clubs were shuttered, radio was figuring out how to broadcast remotely, and Slightest of Treason was lost in the chaos and shuffle created by the initial months of the pandemic.
With an abundance of time on their hands, band members Cameron Keiber (guitar, keys, vocals), David Grabowski (bass, keyboards), Clayton Keiber (guitar), and Dennis Grabowski (drums, percussion) went back into Bluetone Studios (owned and operated by David Grabowski) and started to work on the follow-up to Slightest of Treason.
The product of which was 25-plus new tracks for an as yet untitled album with a more relaxed, contemplative sound accompanied by lyrics that reflect the past year-plus we've all experienced.
Big Takeover is pleased to host the premiere of the band's first single from these sessions, the heartfelt and restless "Megalodon" (which is backed by the B-side "Alice Drills").
Kicking off with a simmering, staccato pace of sporadically blasting guitar riffs and a laid-back drum-beat groove, the song rises with intensity on the chorus sections, blazing with a pressing bass line, a web of dynamic and fiery guitar interplay, kinetic drums and cymbals strikes, and passionately yearning vocals.
The changing state of the song's composition, which contains contemplative verses and more urgent choruses, aptly reflects our current tumultuous times.
The "Megalodon" 2-song single officially releases this Friday, September 10th via Midriff Records.
Eldridge Rodriguez plan on releasing more singles leading up to their full length release sometime in late 2021/early 2022.
ELDRIDGE RODRIGUEZ
Website
Instagram
Facebook
MIDRIFF RECORDS
Instagram
Facebook
Twitter
YouTube