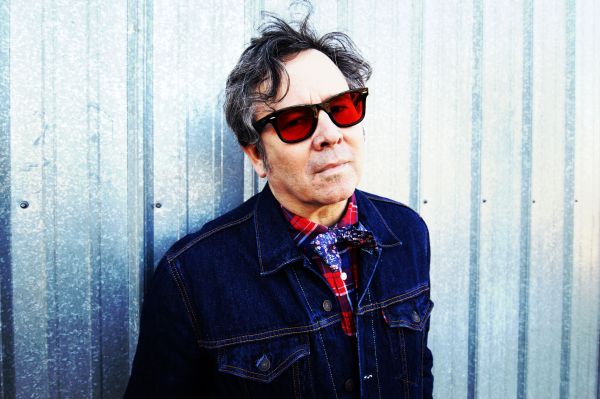 5 August 2020
Grant-Lee Phillips – Photo Credit: Denise Siegel-Phillip
California-born singer, songwriter, guitarist/multi-instrumentalist, actor (beloved town troubadour in Gilmore Girls), film composer, and visual artist Grant-Lee Phillips first came into prominence as the frontman of Grant Lee Buffalo in the 1990s. Accolades rolled in from notable media platforms, including Rolling Stone ("male vocalist of the year"), USA Today (soulful balladeer"), and Uncut (distinguished U.S. songwriter").
The glowing praise continues with Phillips' prolific solo output, with a run of premier albums that showcases Phillips as a master of his craft and a storyteller/soothsayer with astute views on the world at large, as well as on the up close and personal.
Phillips' upcoming album, Lightning, Show Us Your Stuff, will touch down on September 4th via Yep Roc Records.
The LP is a turbulent and highly musical rumination that finds the veteran singer-songwriter at his most inspired. It's his tenth solo release and it bears the markings of his signature output; a melodic prowess and an ear for lyric in everyday conversation.
Previous album Widdershins reflected the recent and radical shift in the American social climate – a world turned upside down. Phillips comments, "I've tackled some of this head-on at times, addressing the inequities of this country, trying to get a few jabs in. Ultimately, I came back to the most interesting and fertile topic – our vulnerability and the scars we have to share with one another."
Lightning, Show Us Your Stuff is a beautifully human musical tapestry. The supportive, recorded-live-on-the-floor, instrumental bed is the perfect frame for Phillips' inimitable voice. This spontaneous recording approach has become a tradition with his solo work. Phillips is joined by drummer Jay Bellerose, bassist Jennifer Condos, Eric Heywood on pedal steel, and Danny T. Levin on a variety of horns.
Lightning, Show Us Your Stuff was produced by Phillips (vocals, guitars, piano, organ) and recorded and mixed by Pete Min (Amos Lee, Andrew Bird) at Lucy's Meat Market in Los Angeles. The album's first single, "Lowest Low," premiered at Ditty TV, and second single, "Straight to the Ground" premiered at SPIN.
Big Takeover is extremely pleased to host the premiere of the poignantly wistful "Mourning Dove," an insightful pastoral rumination that takes the listener on a journey on the long and winding – and challenging – road called life. Phillips sings in a yearning tone about those who remain open-hearted, even in the face of adversity, suffering, and loss.
His lyrics are lush with natural imagery, where, when dreaming about the end of the road, he will lay his head down in the cool shade of a dogwood tree, surrounded by wildflowers and staring up at the clouds floating by. Phillips sighs, No more weepin' / when the mourning dove arrives.
Phillips' elegiac, yet warmly comforting vocals cushioned by the measured march of brushed drums, antique piano notes, gentle acoustic guitar lines, the curl of pedal steel guitar, and a final send-off of softly muted horns.
Phillips notes, "These days, I'm interested in writing about the quiet lives of people who are wrestling to hang on, trying to retain dignity, fighting back forces beyond their control,I'm not interested in pinning the songs down or reducing their mystery. I'm attempting to capture a sliver of time."
Specifically about "Mourning Dove," Phillips offers, ""Of the entire album, "Mourning Dove" is among the oldest songs. I lived with it for several years and it went through various stages before its completion. I began writing it in consideration for The Narrows. Like so much of that album, it's a reflection of what we hold dear, what we value, 'The things we chase that can't be kept.' It was one of the first things I wrote after moving to Tennessee. The imagery of dogwood trees and wildflowers were inspired by my connection to this place. It's also a vision of a world beyond strife or a rest after a long battle."
Click the "Stream Now" button below for different streaming and purchasing platforms for "Mourning Dove":
Website
Facebook
Twitter
Instagram
YouTube
Bandcamp
Spotify
Apple Music
Amazon Music