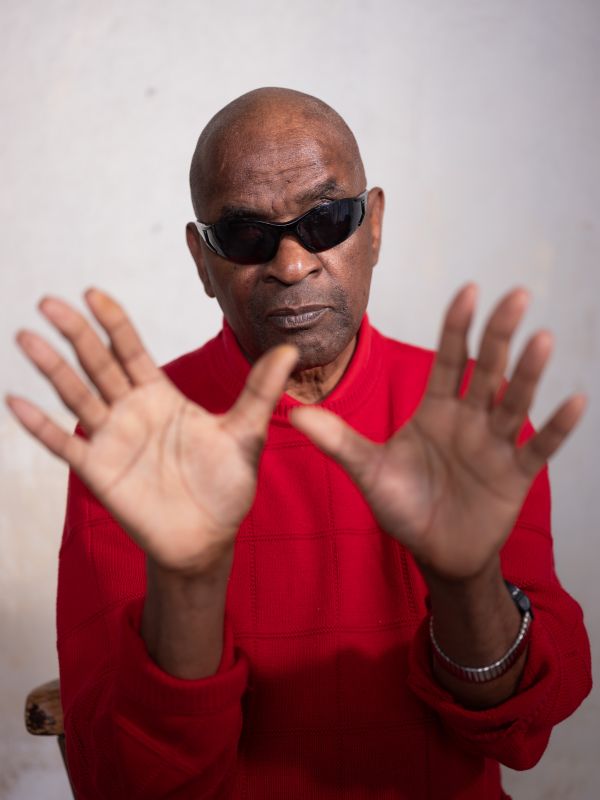 13 October 2021
Blind Butch – Photo courtesy of Blind Butch
Today, Big Takeover offers a first listen to Blind Butch's song of resilience, "No Ways Tired," a heartfelt and powerful track from the new album and documentary project Sacred Soul of North Carolina from Bible & Tire Recording Co. and Music Maker Relief Foundation.
When Tim Duffy of the Music Maker Foundation took Memphis' Bruce Watson (Fat Possum Records, Big Legal Mess, and the new Bible & Tire Recording Co.) to rural eastern North Carolina to hear sacred soul music, he wasn't sure what to expect. Days later, they left with an album and a documentary film of the quartet singing from the region, a tradition which traces its roots in the region back to the 17th century.
Alice Vines of the Glorifying Vines Sisters brought her band and the rest of the artists to downtown Fountain, North Carolina, for the sessions.
"It all started with Dedicated Men of Zion," Watson says. "It's such a family thing. When the DMZ record went well, it was such a dynasty that it made sense to go out to North Carolina and record the whole scene. No one had done anything like that in a long time."
The timing was serendipitous: the sessions were taped days into the arrival of COVID-19, while it was still isolated in two or three places in the US. Since the tapings in early 2020, Little Willie, leader of the Fantastic Spiritualaires, has sadly passed away from a heart attack.
Blind Butch blossomed into a musician in the 1950s and '60s at the segregated North Carolina School for the Blind in Raleigh. He remembers listening to records with his roommate and absorbing the keyboard styles of Fats Domino, Little Richard, and Ray Charles.
"They had little practice booths beside the main music room," he recalls, "and the music teacher would write stuff out on paper in Braille, and get us to learn how to play stuff like, 'How Would You Like to Swing?' and those little [beginner] pieces that were supposed to get you started on the piano. I used to go in the practice room when I didn't think she'd be listening, and I'd be in there playing Ray Charles. And she would run in and spank my hands."
His skills were more appreciated after he graduated in 1968 and began playing in churches and rock bands. Butch has been living in an assisted living facility in Greenville, N.C., since 1990 and regularly plays at churches.
Sacred Soul of North Carolina is a revelation. Eastern North Carolina proves a repository of the gospel quartet tradition, but with elements of 20th century funk sounds. Detailed liner notes by folklorist Will Boone are enclosed with the album.
The full documentary can be viewed/listened to at YouTube:
Preorder HERE
Music Maker exploration of the sacred soul genre of NC HERE
Bible & Tire Recording Co.
Facebook
Instagram
Twitter
Music Maker Blues
Instagram
Facebook
Twitter