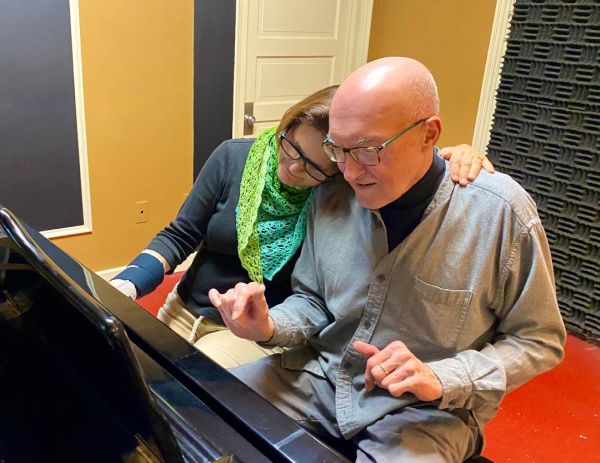 2 November 2020
Toni and John Baumgartner – Photo courtesy of Toni and John Baumgartner
Toni and John Baumgartner, founding members of the highly regarded New Jersey-based band Speed the Plough, were on a planned band hiatus last winter when they started working on some new music, in some new directions. Initially, they enlisted third STP founder Marc Francia to add some guitar parts on a few songs.
Things were moving along nicely through January and February. Then they found themselves in the epicenter of the coronavirus and in lockdown starting in March 2020. That meant that any new recording would have to take place long-distance.
They decided to continue recording and releasing tracks on a monthly basis. John B. explains its provenance, commenting, "As March became April and then May, we realized this project would remain long distance for quite a while. So, of course, we went right to the comfort zone of our tried and true collaborators over the years. Primary among them were Brenda Sauter and Richard Barnes, former Speed the Plough members, and one half of the great band Wild Carnation. Brenda's bass and vocals and Rich's psychedelic guitar, crafted in their Pennsylvania studio just fit like your favorite old sweater."
Big Takeover is pleased to host the premiere of the latest single, the contemplative "Open Door."
Heavily ruminative and delving into the theme of death and the afterlife, the song slowly swirls with a simmering urgency of circling electric guitar line, ponderous, yet gleaming keyboard notes, low-running bass line, a measured drum beat, and shimmering cymbals.
John B. sing-talks in a deeper register, slowly drawing out his words of import, while Toni B. echoes his serious sentiments, but with a slightly lighter vocal delivery. John B. intones the lyrics like a mantra, stating "There will be a day when we meet again / The stars will burn away / I'll see you then."
John B. gives some details about "Open Door," explaining, "Setting the rhythmic theme for the song are the contributions from our former drummer and current beat master Ian Francia (son of Marc F.), who assembled a wonderfully textured bed of percussion in his studio in Florida."
"Open Door" is the fourth of 10+ new pieces the pair plan to release on Bandcamp on a monthly basis until spring, 2021, to be followed by a physical album release.
Toni and John B. are hoping the project will remain fluid throughout, inviting new guests, adding new pieces, and adapting to what the new world holds in store for us all.