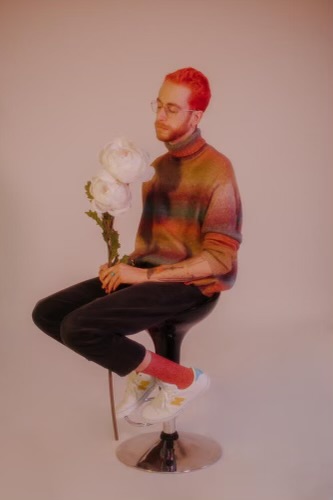 5 December 2022
Dana Why is the musical alias of Dana Yurcisin, NJ-born and bred singer, songwriter, multi-instrumentalist and producer. A maximalist at heart, his productions are brimming with experimentation that span genres, while retaining the strong melodic foundations of pop. Having self-recorded and released four albums and two EPs between 2009 and 2019 under the name Static Sex, Yurcisin started releasing music under his own name in 2020, a choice that came with his increased comfort in mixing his voice front and center in his songs. The Lyre, a self-produced/mixed/mastered and sprawling 15 song set of rock epics and tumultuous, heart-on-sleeve storytelling is his first full length statement as Dana Why, boldly introducing a new era of bigger, more hi-fi productions for the artist.
Dana Yucisin aka Dana Why on the premiere of "Outside":
"I wrote all of the final lyrics for this song in one go while driving from Jersey back to where I was living at the time in Portland, Maine. I had just visited my parter for the weekend, and leaving her for the long drive home, a lot of feelings were hitting me in the silence. Pretty often—and people give me shit for this—I don't listen to any music while driving. I do some of my best thinking while driving in silence, and the words came very quickly and naturally that day (I typically have to labor for months over my words to get something that feels right). I was driving the Merritt Parkway, just two tight lanes going 75 plus, all winding roads, trying my best to type into Evernote on my phone without needing to look. I survived and so did the song."
"I was listening to a lot of The Wrens at the time, and I really dug the thing they do on Hopeless with one simple, looping guitar riff. It's played throughout the entire song, but never gets dull because the chords underneath are moving and evolving, and it's played in raising intensity with each movement of the song. So I just kind of ripped that principal off, and my version of the repeating riff became the musical identity of Outside. I feel okay about ripping something off as long as my version can be played back to back with the original and it doesn't feel completely ridiculous, and I can listen to Outside next to Hopeless without cringing."
"I'm the last guitarist on earth who will act like he can effortlessly rip a solo under any circumstance, but I'm proud of the one on here. I have to completely compose my solos note for note to be able to pull them off, but something I think I'm decent at on guitar is playing with feeling, and this one felt right without much effort. I don't know, there's just something about how Outside came together. Even Biff's drums. He nailed most of the song in one take, and totally improvised the syncopated hi hat ending. I left our reaction to that take in the song."
The single "Outside" available on all streaming services on December 9th with the LP "The Lyre" coming in January.