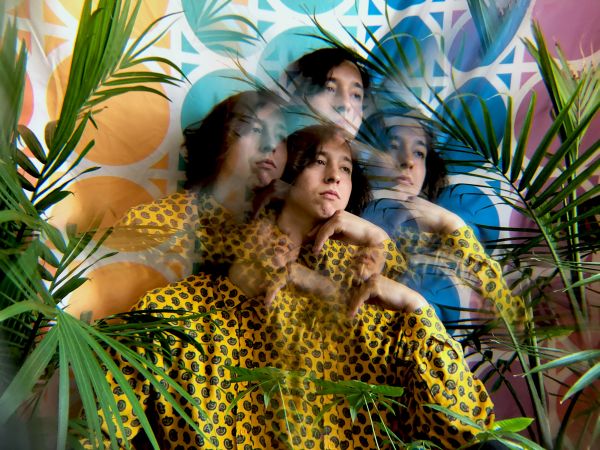 6 July 2021
Daydream Review – Photo Credit: Kaitlyn Murphy
Chicago-based psychedelic pop artist Daydream Review will be releasing his self-titled debut EP on October 2nd via Cold Lunch Recordings.
Written before the pandemic, the EP's songs are about expectations of the future, the anxiety that follows uncertainty, and both the excitement and dread over big life changes.
That's in part because songwriter Elijah Montez started the project when he was just about to move from Austin, Texas to Chicago, Illinois a few years ago after grad school.
Montez also brought along some of the warmth of the Austin psychedelic rock scene to Chicago, as his music feels blanketed under a wall of sound (like on recent lead single "Dazed").
Big Takeover is pleased to host the premiere of Daydream Review's second single, "Petals," which builds up layers of sound with keyboards and guitar effects.
The laid-back "Petals" flows with a copacetic vibe of languid globular guitar notes, low-key bass line, brightly ticking cymbals, coolly shuffling drum beat, and Montez's light vocals that drape over the unhurried instrumentation.
While most of the EP's songs are about expectations and anxiety, "Petals" sticks out in that it's more firmly planted in a present moment and it's the only love song on the record.
Much like psychedelic contemporaries that include Levitation Room or Babe Rainbow, Montez takes inspiration from the '60s, but on "Petals" he also brings a touch of '70s disco to the rhythm and instrumentation.
In his verses, he blends in psychedelic imagery with lyrics like, "sun dripping through your fingers […] golden synesthetic reaction."
Commenting upon the song, Montez says, "This tune was definitely an experiment of sorts. I like writing love songs, because I have a wonderful relationship with my wife, but don't often write about anything sexy, so it ends up being kind of on the nose."
He adds, "It's a love song, using similarly flowery and psychedelic language, but with maybe a drop of lust mixed in for good measure."
Bandcamp
Spotify
Apple
Facebook
Twitter
Instagram