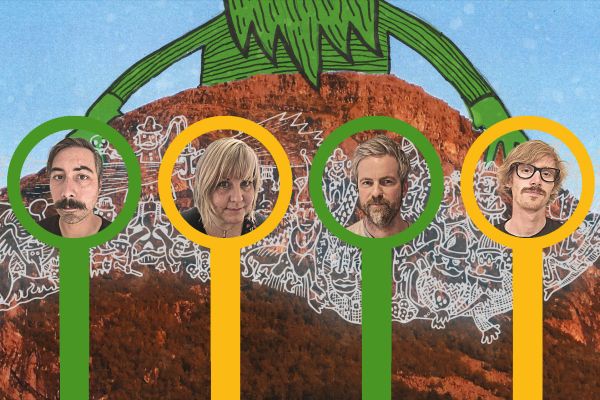 16 December 2021
The High Water Marks (L-R): Logan Miller, Hilarie Sidney, Per Ole Bratset, Øystein Megård – Photo credit: Self-Portraits
With The High Water Marks making a big splash with new music these days, it's worth taking a moment to remember how we probably know band member Hilarie Sidney best.
During her pre-Norway years living in Denver, Colorado, Sidney became the co-founder of one of the most iinfluential musical collectives of the past 25 years.
The Elephant 6 Recording Co. is a storied group of artists and Sidney was part of the beloved band The Apples In Stereo, as well as two other acts – Neutral Milk Hotel and Olivia Tremor Control. They were the most visible groups of Elephant 6, but as the collective opened to international recognition and acclaim, and to seemingly dozens of other bands that wanted to be a part, Sidney's enthusiasm drifted to other shores.
Sidney eventually found a new musical partnership when she formed The High Water Marks, releasing a debut album (Songs About The Ocean) in 2003. The record was written and demoed through the mail with her now-husband and bandmate, Per Ole Bratset, whom she initially met at an Apples gig in Norway in 2002. A follow-up album (Polar) arrived in 2007.
Now, over a decade after releasing her last album as The High Water Marks, the band is back with new music that reflects the maturity, perseverance, songwriting, and performing talent that made Sidney's contributions to Elephant 6 and The Apples so integral.
Ecstasy Rhymes, the first album by The High Water Marks in thirteen years, is out now. The follow-up album Proclaimer of Things arrives on February 4th via Minty Fresh.
Big Takeover is pleased to host the tuneful "Reason Vs. Truth," a perceptive and engaging track from the upcoming LP.
The upbeat number sways with gritty guitar drive, a deep-diving bass line, dynamic drumming, scintillating cymbals smash, and wavering organ notes, and is graced by Sidney's sweetly winsome vocals.
Per Ole Bratset comments, ""'Reason Vs. Truth" was one of the first songs written for our new album Proclaimer of Things. Hot on the heels of completing our last album (2020's Ecstasy Rhymes', Hilarie was writing several new songs a week and this one was one of the first demos that we fleshed out with wild drumming, fuzzed-out solos, and Hilarie's unmistakable voice on top."
Plunging into the meaning of the song, Sidney reveals, "It's about a guy who tried to run away from a lot of trouble. He seemed kind of invisible because he was a slippery character who disappeared a lot and then suddenly re-appeared out of nowhere. We hope that he can figure everything out. We heard that he might or might not be a member of The Hermetic Order of the Golden Dawn. Both secretly and non-secretly. He doesn't know that we know that he knows."
Facebook
Instagram
Twitter
YouTube