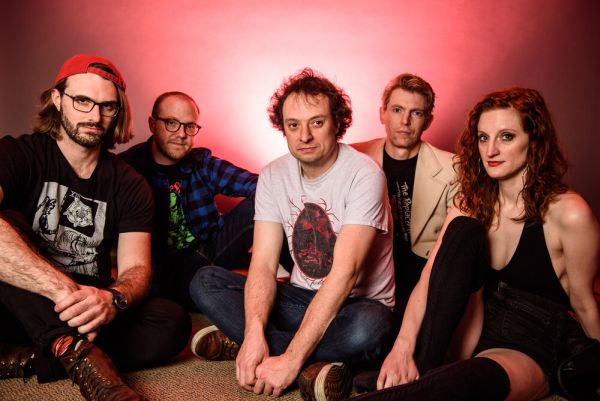 17 April 2020
Killer Workout – Photo courtesy of Killer Workout
Killer Workout is a Seattle-based band, but is sonically connected to an era of the city in which people danced themselves into a euphoric high. Combining the arch disco-rock of '70s icons with poppier post-punk bands in the New Wave era, while adding the resonant dynamics of more recent funk-fueled dance-floor groups, Killer Workout have invented their own style of what they call exploitation rock.
Taking their name from "a kooky '80s slasher movie" that keyboardist and vocalist Anthony Darnell was a fan of (which was set in an aerobics studio and featuring a killer using a giant safety pin as a weapon), Killer Workout is just as shiny and shocking.
The fiery and frenzied Adrienne Clark, also on keys and with backing vocals, joins in like Darnell's mad slasher twin as they crisply funk it up live, with perfectly one-the-one drums from Bob Husak (The Blakes) beneath Reed Griffin's sonorous guitar and Jon Swihart's perfectly tempestuous bass.
Their new EP Four : Three arrives on June 26th, but ahead of that time, they're releasing the single "Too Late," which also has a killer accompanying video. Big Takeover is pleased to host the premiere of the song today.
The upcoming EP follows up a previous EP and compilation of tracks from the past couple of years. Produced by Conor Sisk (Kilcid Band, New Faces) at Rainshadow Recording, it literally sounds like a sonicartifact from the '80s that also has a timeless quality.
"Too Late" is perfect for the mood-lit dancefloor, a rhythmically groovin', peppily moving number with crisp drum hits, a touch a light piano, deep bass line vibe, and direct vocal direct touched with swooping harmonies. The song's lyrics are actually a bittersweet chaser after the lively shot; brimful of rueful rumination on having to go forward and not look back at the past.
Darnell states, "With 'Too Late,' I was trying to do a HAIM and Kate Bush hybrid thing. I really love the song "Hounds of Love" by Kate Bush and I was trying to go for something that had that kind of vibe, with that nice driving piano line."
"Lyrically, it's about missed opportunities in a relationship. You can see that the end is near, but it might be too late to fix the underlining issues. But even though the relationship is about to end, there's hope. It's "too late to say goodbye" means that we've spent so much time together that we can't say goodbye. It's too late for that."
"I used to be an actor, and I always found that the final performance of a show was bittersweet and kinda like a relationship ending. You put so much work into something and this is the last time you'll get to experience it. That's what I was aiming for with the line, "Gonna move like a dying star on the last night of the run; burning out like this old love when it loses all the fun."
Website
Facebook
Twitter
Instagram
YouTube
Bandcamp
Spotify
Apple Music