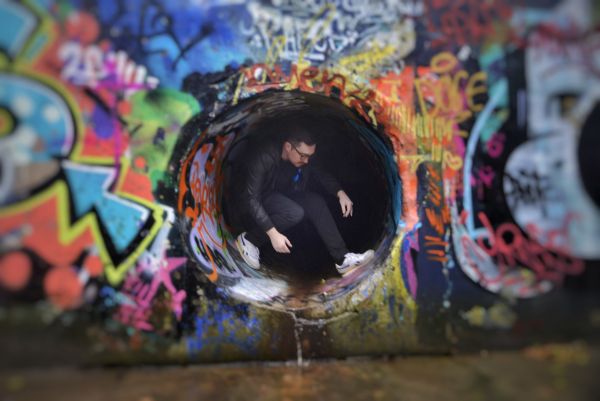 3 June 2020
Coast Off – Photo Credit: Jay Pigott; Instagram: jj_jet_plain
David Roller's path in the music field began about ten years ago, and for the past couple of years he's been recording under the moniker Coast Off. He had always been the bass player in other bands, but he was also always writing his own music on the side.
After going through a slew of life events, Roller started trying out some of his songs live at the famous Cincinnati bar MOTR Pub. Since then, no one has been able to distract him from writing and completing an album. Titled Honest August, Roller's debut LP comes out everywhere on June 19th.
Roller gives some details about the album, explaining, "Honest August is the culmination of a decade of songwriting.. The songs throughout this record are written about the period of life that happens directly after high school up until your early 30's. These songs were intentionally recorded to be listened to as a complete album."
Roller also intends to bring a band together to play these songs live for people as soon as it is possible.
Big Takeover is pleased to host the premiere of the laid-back, wistful, and infectious indie rocker "Coast Off" that insinuates itself into the ears with an off-hand charm.
A shuffling drum beat is lifted up by sparkling synth lines and Roller's hazy, yet still passionate intonation. Soft cymbals shimmer and a low, driving bass line add light and darkness while Roller's stream of consciousness-sounding lyrics wind themselves into and take hold of the brain.
Roller explains, ""Unpredictable" [is] the first song on the album. It sets the tone for the rest of the record. This song is all about attitude. "Your money spends the same," is just another way of saying, "You're really no different from me." If I was to sum up the whole song it would be the word "Whatever." It's me kind of shrugging off the rest of the world for a minute, taking a break from other people's agendas and opinions. This song was tracked by me at home, and Joey Joesph (The Eyebrow Palace) made all the drums sounds, mixed, and mastered it."