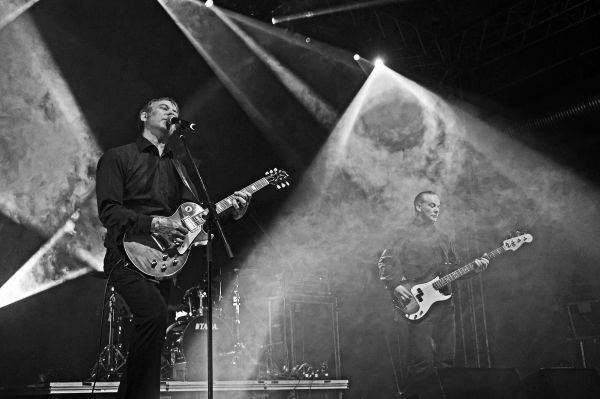 20 July 2021
Jogwer and Walter of Pink Turns Blue – live – Photo Credit: D. Vorndran
Berlin-based post punk icons and darkwave trailblazers Pink Turns Blue may not need any introduction to attendees of hundreds of festivals and venues across their native Germany and even further afoot in Europe, we are pleased to present new music from their long-awaited album today, the first since 'The AERDT – Untold Stories' in 2016 via Orden Records.
But first let's welcome our guests: Pink Turns Blue emerged in 1985 as part of the first generation of gothic rock in Germany. Named after a Hüsker Dü song, they were originally a duo consisting of Mic Jogwer and Thomas Elbern, propagating a sound inspired by The Chameleons, Clan of Xymox, and The Cure.
At a time when Germany was still divided by the Cold War, their debut album 'Two Worlds Kiss' became known for adding in a certain darkness to new wave and is considered one of the initial albums released in what became known as the "darkwave" sub-genre. Since that album, they have released eleven long-players.
Nowadays, Pink Turns Blue is Mic Jogwer (vocals, guitar), Reubi Walter (bass, keyboards) and Paul Richter (drums). Inspired by Joy Division, The Sound and The Chameleons, their trademark sound remains heavily influenced by '80s post-punk and new wave.
Today we present their new single 'You Still Mean Too Much To Me' from their 'Tainted LP, an anthemic song that channels a personalized situation to dark sonic gold. We've all been there – this music is emotionally harsh and sublime. How does one channel grief into such beauty?
The track follows up lead singles 'There Must Be So Much More' and 'So Why Not Save The World'. Some pretty amazing output a year in the making, as the band spent lockdown writing, recording, mixing and mastering this new collection at their recording studio.
The album title itself relates to the state of our world: climate change, its effects, the reaction to it, the split within society, isolation, health risks and financial uncertainty.
Frontman Mic Jogwer comments, "How to overcome the grief / pain of lost love, torn between hate, very bad feelings and, at the same time, not being able to let go at all. As there is no understanding why you fall in love with someone in the first place, there is also no reason / understanding why love does end or your love of life starts to feel attracted to someone else. It all dissolves into nothingness…. Some melodies and moods just call for certain sad themes and touch old wounds that never seem to heal. Normally love stories don't seem to have a connection to me and my life. But then, when I find a sad melody with some sad chords it all gets stirred up and comes to life. Maybe love really never ends."
As of July 30, 'You Still Mean Too Much To Me' will be released everywhere online, including Apple Music and Spotify. The 'Tainted' LP will be released on September 24. It will be available digitally and in two physical formats – a CD with a 16-page booklet and on black vinyl, strictly limted to 500 copies, with an 8-page booklet. Both can be pre-ordered exclusively via the band's website
CREDITS
© 2021 ORDEN Publishing
(p) 2021 ORDEN Records
Music & words by Mic Jogwer
Performed by Pink Turns Blue
Mic Jogwer (vocals & guitars)
Ruebi Walter (bass)
Paul Richter (drums)
Photos by Daniela Vorndran
Also check out their earlier two singles from this album with fab videos to boot:
Pink Turns Blue
Website
Facebook
Instagram
Twitter
YouTube
Bands In Town
Song Kick
Spotify
Apple Music