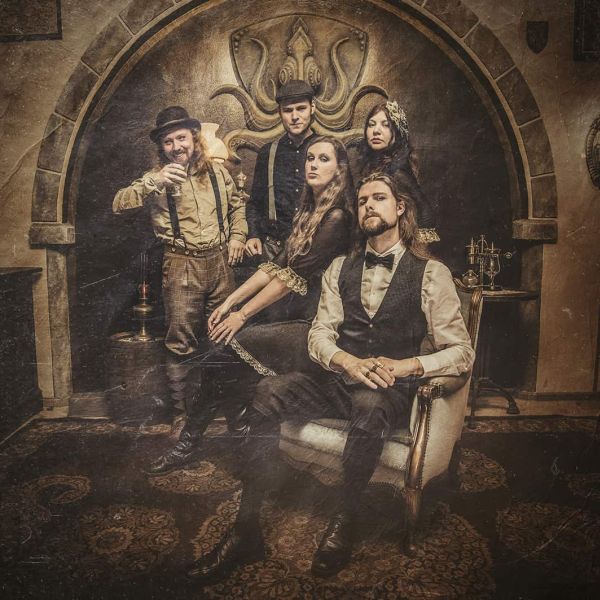 17 March 2021
Storm Seeker – Photo Credit: Franz Schepers
Today we circle back to a band we presented at the end of 2020 to showcase their latest single – 'Shoot This Ship Down' continues the saga of adventure-laden ethnic-metal outfit Storm Seeker, whose album Guns Don't Cry will be released in North America this coming Friday.
Big Takeover is pleased to host the premiere of the stirring performance music video for rousing and tuneful track from their upcoming LP. Blending European metal with athemic Gaelic sing-alongs and classical symphonic touches, Storm Seeker rides a unique and wild musical crest that is ear-catching and entertaining.
The band have been extremely busy in this age of Covid, recently unveiling both a lyrics video and official video featuring Mr. Hurley & Die Pulveraffen for their single 'Deathwatch Beetle Party', as well as several sea shanties.
'Wellerman' was released on Spotify and Apple Music after a real boom via TikTok, where the song has inspired millions. Apparently, this 19th-century sailor's song speaks to many in pandemic times. Storm Seeker's 'Sea Shanty Folk Version' was even briefly featured on NBC news regarding the revival of sea shanties. As a result, they've also just shared a new 'Randy Dandy Oh Sea Shanty Session'.
"Guns Don't Cry is our third studio album, where every song is carefully selected and crafted with a passion for detail that lies in the small melodies and instrumental parts. Between the music and these lyrics, we take you on a joyful adventure through the winds and waves of the seven seas," says Stom Seeker frontman Timothy Abor.
Recorded, mixed, and mastered by co-producer Marius 'Olaf' Bornfleth, this album includes 11 stellar tracks that will take you on a voyage to abandoned shores through winds and storms. Epic battles and mysterious creatures await you, featuring terrific Nyckelharpa and Hurdy Gurdy Solos, fiddley Accordion parts, crushing guitars, and thunderous drums.

Storm Seeker's 2016 debut Pirate Scum EP was followed by steady European gigs amd major festivals. The debut album Beneath in the Cold LP (May 2019), amped things up, bringing them a roaring year, touring with Haggefugg and Vogelfrey and their spring 2020 signing with NoCut Entertainment. Then, despite closed ports all over the world, they faced the storm together, playing shows with MONO INC. all over Germany.
The journey of the small Storm Seeker ship, with its five-member crew, has led them from small harbours, with their unique mix of classic metal ensemble and melodic traditional instruments, to chart completely unknown waters in Germany and Europe.
On March 19, Guns Don't Cry releases in North America on physical media and is already available digitally worldwide and physically in Europe. There is a vinyl edition plus a 6-sided Digipak available, in addition to a limited fan-box containing the album, a high quality embroidered handkerchief, a lovely band-poster and signed autograph card, which can be ordered from record stores across the country or online directly from No Cut Entertainment
CREDITS
Self-produced by Storm Seeker
Marius 'Olaf' Bornfleth – production, recording, mixing, mastering
Timothy Abor – lead vocals, bass
Olaf Abor – guitars, vocals
Sandy McGnomsen – cello, nyckelharpa, vocals
Fabi – hurdy gurdy, recorder, vocals
Ughar der schrecklich Durstige – keyboards
Proof that these guys never sleep:
Storm Seeker
Website
Facebook
YouTube
Instagram
Spotify
Apple Music
Store