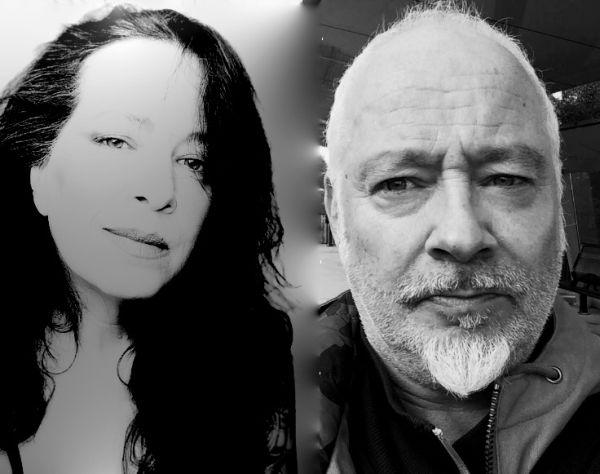 12 May 2021
Marselle Hodges and Pieter Nooten – Photo Credit: Marselle Hodges and Heidi Arts, respectively
Legendary 4AD artist Pieter Nooten and vocalist Marselle Hodges of the Blue Hour announce a new video single from their just-released collaborative album, Anonymity.
Nooten, who is renowned for converting what could be melancholic music into something resplendent on albums like Sleeps With The Fishes (with Michael Brook), returns with a delicately downtempo track that treads a razor-thin line between anxiety and beauty.
Together, Nooten and Hodges deliver a fresh take on dreampop that nests comfortably between the lush output of early 4AD and the modern ambient electronic music of bands like Apparat.
Big Takeover is pleased to host the atmospheric music video for the equally entrancing "Anonymity."
Against a deeply shadowy backdrop, a multitude of television screens run various snips of footage, including Nooten and Hodges performing the song. Design graphics, the quiet shoreline, and deserted buildings also comprise images that the TVs are projecting.
Hodges explains that the video for "Anonymity" was inspired by the lockdown. "We've found ourselves so divided, both searching for and fearing recognition in this very lonely time. All we've had are the images on social media to keep us connected to the world."
"The video for "Anonymity" portrays people lost in a media-drenched world, being pulled to assimilate, becoming more and more anonymous, while never fulfilling the basic need to be seen as individuals. "Anonymity" is a cry to escape and transcend."
Nooten was a founding member of Clan of Xymox, with whom he recorded several albums for 4AD Records before writing the seminal ambient album Sleeps with the Fishes with Michael Brook. Nooten has since released several solo albums, written music for media, dance/theater, the Red Hot & Bach project and World Press Photo.
Hodges is the acclaimed vocalist for the dreampop-noir band, the Blue Hour. Her ethereal yet soulful delivery exhibits the breadth and nimbleness of her instrument, ranging from broken whisper to playful vocalizations to soaring, multi-layered harmonies.
Order/Stream Anonymity at Bandcamp