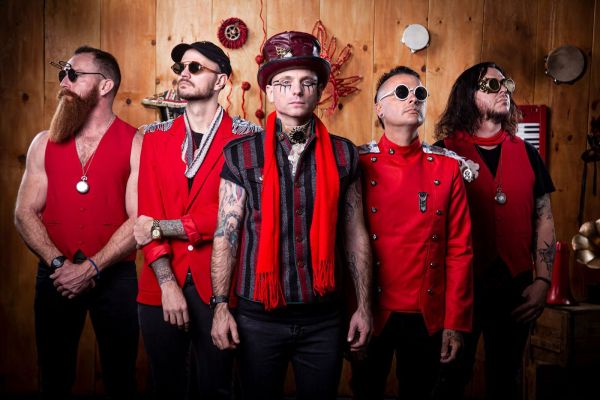 18 July 2019
The Parlotones – Photo
South African, wide-roaming indie rock band The Parlotones are internationally known, with hundreds of shows and festival performances under their collective belt. Their latest adventurous LP, titled China, arrived on June 28th via OK! Good Records.
Recently having celebrated their 20th anniversary as a band, Kahn Morbee (vocals, guitar), Neil Pauw (drums), Glen Hodgson (bass, keyboards, backing vocals), and Paul Hodgson (lead guitar). worked alongside two-time Ivor Novello Award-winner and Grammy-nominated songwriter Sacha Skarbek (Adele, Tears For Fears, James Blunt, Lana Del Rey) to craft China. It was recorded and mixed by Jacques Du Plessis at High Seas Studios and produced by Jacques Du Plessis and The Parlotones, with additional production by Rob Davidson.
The follow-up to 2015's Antiques and Artefacts, China blends monumental sounds and dense textures while touching on the deeper meaning of what it's like to be human. The Big Takeover is thrilled to bits to be hosting the premiere of the vivid narrative video for "Antidote", the opening track on the LP.
The song itself bubbles with synth-pop liveliness, contemplative, but catchy lyrics, and rousing, synths- and vocals-driven chorus sections. The story-telling video for "Antidote", however, takes inspiration from the bittersweet lyrics by featuring ocean-based visuals and a dream-like, yet desperate and impossible love.
Davidson dives into the meaning of "Antidote", explaining, "The song tackles the theme of 'last chances' and admitting fault in one's self. It pleads for one more shot at being the person the other one deserves by changing their selfish ways and growing as a person. Originally written as a piano ballad, it took on an '80s synth pop vibe reminiscent of Pet Shop Boys/Depeche Mode to create a more upbeat song but with a darker undertone. It asks for forgiveness but also knows you have to sleep in the bed you made."
The music video's director Ryan Du Toit relates pertinent details about the video, revealing, "The idea came from the lyrics "You're the ocean, I'm the sea. You're the voice that calls to me", which in my opinion represented the lust struggles of the Sirens and sailors. The story to be told was a reflection of love struggles in today's life, which is shown in the video by visualizing 'capture, lust, allure, death and entrapment'. During the video the idea was to show all the past lovers dead in the water, but all warning signs are ignored. A man set on course to find love no matter the consequences."