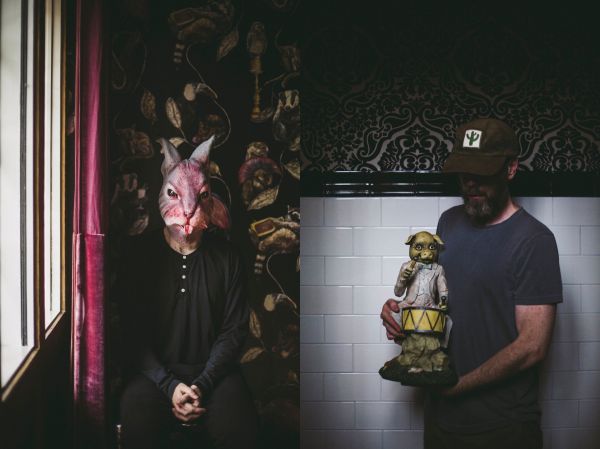 14 March 2019
The Cabin Fever – Photo courtesy of The Cabin Fever
Los Angeles indie rock/pop project, and now band, The Cabin Fever recently released a foreboding slowcore remix of their dreamily haunting track "B-L-S-H", which comes off their Exercise The Demon EP from February of last year.
The strangely mesmerizing "B-L-S-H" (Slowmix) gets the video treatment and The Big Takeover is pleased to be the host body of this premiere. Time to get enter a warped and dreamy nightmareland of The Cabin Fever's imagination, which takes place in a spooky cabin dollhouse with its darkened corridors invaded by unknowns (well, actually, it's the band members) in menacing animal masks.
Deep, narcotic vocals elongate with the sedate pace of the song, as a downtempo beat, soporific guitar lines, and strung out violins creep through the cut. The members also play in front of the demonic miniature cabin, and then are slowly erased with videotape staticky fuzz taking their place…
The Cabin Fever is composed of founder Sean Moriarty, Joel Bedolla (guitar), Tripp Beam (drums), and Patrick Taylor (bass).
The band members dig up some dirt about the inspiration for the video, revealing, "The title, "B-L-S-H" is an acronym for 'Buy Low, Sell High', which is a pretty basic business concept. The lyrics are about missed opportunities and how depression and the negative feelings we all have sometimes can make it feel like it's always going to be too late to B-L-S-H. Very early on, we discussed an everything-in-reverse concept, playing with the 'hindsight is always 20/20' saying. We watched ALT+J's "Breeze Blocks" and Adam French's "Weightless" videos for ideas on how to execute."
"Eventually that morphed into the real-time slow-motion concept that prevailed in the end and seemed to fit better with the trippy remix version we were working with. Additionally, Dokken's "Dream Warriors" video was passed around. Sean made a remark that perhaps the cabin miniature concept was subconsciously implanted in his brain as a kid 30 years ago when Nightmare on Elm Street 3 was in theaters, ha ha."
"The old VHS camera and TV/VCR combo were an extension of The Heaven's Gate motif from TCF's previous video, "The Brown Bunny". The animal masks and red-green-blue-yellow motifs were a nod to the first video we all worked on together, TCF's "Simon Says". Further inspiration came from the movies Enter The Void and The Shining as well as The Exorcist."
Website
Facebook
Twitter
Instagram
Bandcamp