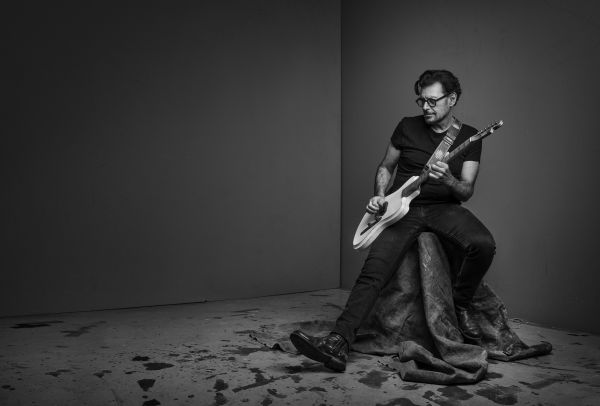 26 April 2021
Eric Bazilian – Photo Credit: Thron Ullberg
Eric Bazilian, the Grammy-nominated singer/songwriter/multi-instrumentalist and a founding member of The Hooters, will be releasing his highly anticipated new album Bazilian on May 14th.
Ahead of the roll-out of the new LP, the renowned musician drops his fifth and final single,"Back In The 80s." The title alone suggests this is a song that references the mega-success of The Hooters in the 1980s, but in truth the track is a nostalgic ode to life in a time of isolation.
Big Takeover is deeply pleased to host the premiere of the storytelling music video for "Back In The 80s" today. On the melodic, yet measured indie folk-popper Bazilian delivers a message of solace about appreciating all that life has to offer; the highs and lows, and of being in the moment.
Bazilian gives some insight into the song's meaning, revealing, "I did a podcast with a Medium last spring. She told me that my father had a message 'from the other side'— that there was a song I'd given up on that I needed to finish. I wrote the chorus to "Back In The 80s" the next day, and, with some help from James Bourne of the legendary British band Busted, I wrote the third verse a couple of days later. …The song is about appreciating the time we live in for all its beauty as well as its faults and frailties."
The music video was shot in black and white to give it a vintage vibe, director Max Tellving, who also came up with the video clip's narrative, throws it way back, way past the 1980s to a time when the only mode of transportation was by horse and buggy.
Bazilian is shown gazing through a window into this long-ago time period, watching a traveling musician play the violin for his family gathered out of doors. Footage of the father stacking hay while his family splits wood and picks berries showcases the farmer's way of life.
But then quirky anachronistic images begin to appear… power lines cut the sky, a modern (well, relatively) car arrives at the house, a smartphone pulled from the overalls features pictures of the COVID pandemic on its screen…
The wry music video provides the perfect backdrop to the track as it takes old -time imagery and turns it on its head to encompass a much wider perspective than anticipated.
Bazilian gives some interesting details about how the video came about, commenting, "The video was conceived, directed, shot, and edited by Max Tellving in Sweden, the same person who has done many of my earlier videos such as "One Light" and "Happy Birthday" (with James Bourne). His concept was to set the video in the 1880s (or 1780s) rather than the expected 1980s, but to include several timely visual 'Easter eggs.' We shot the video in my wife's home town of Järvsö, four hours north of Stockholm, in the summer of 2020."
"Back In The 80s" will be officially released on April 30th. The song can be purchased HERE
Website
Facebook
Twitter
Instagram
YouTube
Spotify
SoundCloud