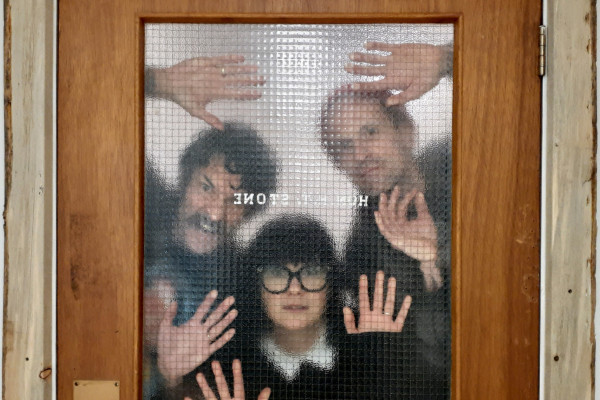 28 April 2022
Big Takeover is excited to bring you the video premiere of "Brighten the Corner" by Night Court. The video has a psychedelic and trippy feel which is fitting for a band like Night Court who have the optimist sounds of 90's heroes such as Archers of Loaf or Built To Spill.
As Dave Patterson from the band put it: "The song reflects on the idea that individuals can make the world at large a better place by improving their own small corner of it."
Patterson fesses up about the meaning of the song title, saying "As much as I would like to say that the name is a hat tip to the great Pavement album, the idea actually came from hearing a rendition of the gospel song "Brighten the Corner Where You Are" on the Perry Mason reboot. Maybe there's an Ozzy Osbourne joke in here? Or an 80s TV joke?"
Vancouver trio Night Court was born during the great lockdown of 2020 with longtime friends Jiffy Marx and Dave Paterson emailing each other song ideas, and later adding drummer Emilor Jayne. Using Jiffy's old Tascam 4-track and stolen recording software, they guerilla recorded what would become Night Court's earworm-riddled debut duology – Nervous Birds! One and Too. Drawing from a wide pool of garage rock and indie influences, the band's only concern is to play delightfully sick melodies through ripping guitars, fuzzed-out bass, and bombastic beats on borrowed and broken drums. Night Court demands attention, but long attention spans are not required. Look for their upcoming album "Nervous Birds! Too" to come out on May 6th on Snappy Little Numbers and Debt Offensive Records.
The band is going on a Canadian tour, so make sure you check them out if you live near these cities:
May 7th Vancouver BC at Black Lab /w Brutal Poodle
May 12th Ymir BC at Ymir Schoolhouse /w The Shit Talkers
May 13th Edmonton AB at Sewing Machine Factory /w Real Sickies
May 14th Calgary AB at Palomino /w Real Sickies
May 28th Vancouver BC at Red Gate /w The Tranzmitors
Pre-Order
Bandcamp
Instagram
Twitter
Debt Offensive Pre-Order