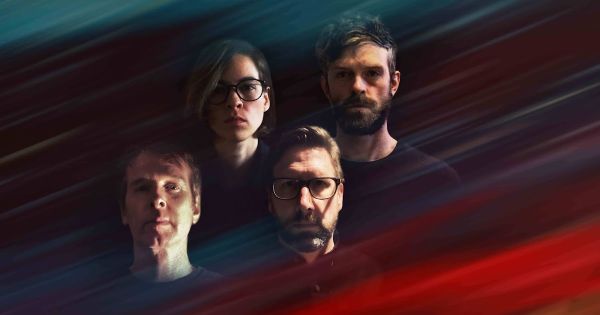 4 November 2021
Swiims – Photo Credit: Mai Diaz Langou
It's not often that we think about how important the music that was written for films is to our culture. As Mint 400 Records releases its second full compilation of songs written for movie soundtracks it will remind fans of the fascinating scope that movie soundtrack songs cover.
This new collection of songs shows off many new additions to the Mint 400 Records roster like Renee Maskin, Tom Barrett, Lowlight, Swiims, Vanderocker, and a bunch more, as well as some bands that have been with the label for years like Yawn Mower, The Brixton Riot, Fairmont, The Bitter Chills, and many more.
The massive 24-song compilation spans movies from the last 70 years and covers everything from Breakfast At Tiffany's "Moon River" to 8 Mile's "Lose Yourself." Of course these are not typical covers as Mint 400's roster re-imagines and interprets the songs in a way only their roster could, from jazz to indie rock genres.
The lead-off track on this compilation is Swiims covering Blondie and a song originally written for the movie American Gigolo, "Call Me".
Big Takeover is pleased to host the premiere of the atmospheric and introspective music video for Swiims' take on the Blondie classic.
SWiiMS is a 4-piece rock outfit hailing from Toronto, Canada. After a few failed attempts to get the project off the ground, drummer Ken Hume and guitarist Colin Thompson, chanced upon singer/guitarist Mai Diaz Langou. Her elegant poetry and languid vocals meshed perfectly with the band's jangly guitar pop and love of '60s harmony. Bassist Cian O'Ruanaidh auditioned shortly after and was the perfect fit, immediately soaking the songs in tasty melodic hooks and driving energy.
Their unique blend of Brit-rock, New Wave, dreampop, and shoegaze elements swirl around beautifully crafted lyrics and harmonies to create a sound that is all their own. They bring their own spin to this cover song and it's no wonder they are one of Mint 400's most popular bands.
Here's what the band had to say about the song they chose to cover:
"We chose "Call Me" in part because Blondie was a pioneer in the New Wave scene of the late '70s and early '80s and were a big influence on many bands that we love. "Call Me" was the Billboard 100 top single of 1980 and Blondie's biggest selling single. We wanted to bring something different to this most recognizable hit and give it a dark SWiiMS spin."