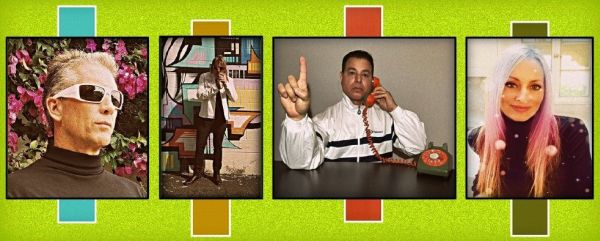 11 July 2019
Mercvrial – Photo courtesy of Mercvrial
Mercvrial is an eclectic group with shoegaze and dream-pop tendencies that imprint on the sounds of Ride, Slowdive, The Chills, and similar artists that the band embraced during their formative years.
On Mercvrial's two new singles, "Carnival" and "Otherworld", a thick, yet airy bed of guitars provides the backdrop to reflective and hazy vocals that address themes of existential bewilderment.
The Big Takeover is mighty pleased to host the premiere of those two songs' accompanying music videos. They take inspiration from VH1's TV show Pop-Up Video, where brief pop-up factoids and comments on the band and visuals appear throughout the run-time of the footage.
The video for "Carnival" takes a bit of inspiration from Rain Parade's "This Can't Be Today", and features 16mm carnival/circus footage. Each band member filmed his/her part from a different region in the world. From Mexico, California, Wisconsin, and Virginia, they were never all in the same place when creating this video.
The video for "Otherworld" is influenced by the Alien prequel Prometheus, and uses vintage clips of sci-fi scenes from the 1961 film Il Gigante di Metropolis. Here, Mercvrial provide their commentary on a campy, yet entertaining movie.
The "Carnival" and "Otherworld" singles are part of Mercvrial's upcoming EP titled The Stars, Like Dust, which will be released on all platforms on August 9th.
"Carnival"
"Otherworld"