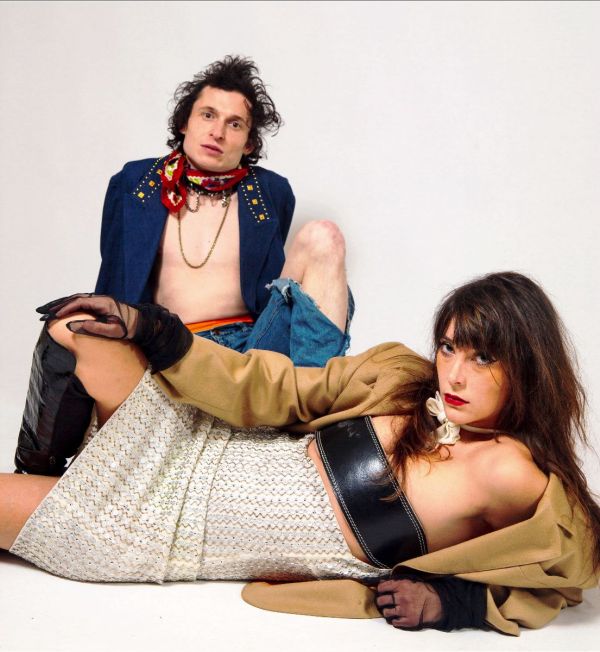 13 April 2021
Paupière – Photo Credit: Gladu Drouin
Montreal-based Paupière are set to release their new album, Sade Sati, on May 7th. The synth-pop duo of visual artist Julia Daigle and Pierre-Luc Bégin (Polipe, We Are Wolves) have cultivated a glamorous and bold aesthetic and channel an underground pop vibe with their music.
In the word "paupière", there is "peau" (skin) and "pierre" (stone), the organic and the mineral, sensitivity and hardness. The act, with their raw words and uncompromising melodies, confirm with Sade Sati their desire for authentic expression.
Paupière",are also anchored in nostalgic and catchy pop music that mix English synth-pop and French compositions; neo-romantic at heart, where one can hear echoes of the Human League and Depeche Mode.
Intertwined voices sing of the adolescent and hedonistic romanticism of the '80s as much as contemporary disenchantment. After two EPs (Jeunes Instants and Jettatura) and an album (À jamais privé de réponses) released on Lisbon Lux Records, Paupière is back with their second album .
With the support of producer Vincent Levesque (We Are Wolves), who has been with Paupière since their beginnings, they have integrated organic instrumentation that enriches the electronic compositions of the album while keeping their signature sound intact.
Big Takeover is pleased to host the premiere of the cyclic storytelling music video for the rhythmic and upbeat track "Coeur Monarque". The song vibrates with shining electronics and steps with a staccato, yet groovin' pace. Daigle and Bégin's vocals dance between each other, with Dailgle's sweeping French expressions reaching outwards and upwards.
In the video clip the protagonist is shown getting ready for a night out, drink in hand, prepping, and running out the door, and just like in Groundhog Day, she lives the night over and over again, always downing her drink, always getting into pre-party mode, night after night after night…
When does a good or fun thing become too much? When does a routine become a rut that needs to be broken out of?
Director Kevan Funk adds some insight about the music video for "Coeur Monarque," explaining, "Working with Paupière has been a very collaborative process and a real joy. Julia had some very clear ideas in terms of what she wanted to see in this video, which provided a nice jumping off point."
"We both really liked this idea of being caught in this loop of arrested development, reliving this same routine over and over again. The thought was to focus on the cycle of this party lifestyle, in a way that strips out the attractive fantasy we often imagine and remind the audience instead of this monotonous and destructive treadmill that our lead character is on."