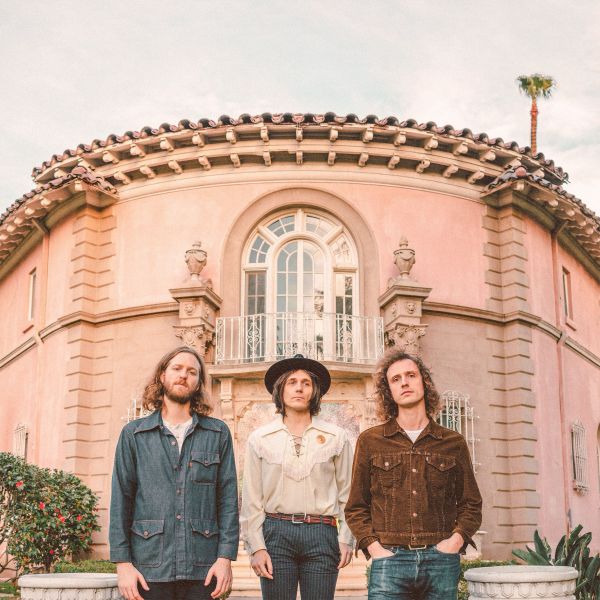 12 April 2021
Triptides – Photo Credit: Alex Bulli
With a sound oscillating between psychedelic pop and space rock, L.A.-based Triptides' new album Alter Echoes channels both The Byrds at their most hallucinogenic and Pink Floyd at their most cosmically composed, all while creating something immediate and new.
The band have established themselves as a preeminent part of the new wave of L.A. psych music. With Alter Echoes they pull away from the pack thanks to the quality of their songwriting, performance, and production.
Triptides is led by multi-instrumentalist Glenn Brigman, and he's joined by drummer Brendan Peleo-Lazar and bassist/guitarist Stephen Burns.
Big Takeover is pleased to host the premiere of Triptides' new music video for "Hand of Time," which comes off of Alter Echoes.
The band comment on the track, stating, ""Hand of Time" is about the absurdity of believing that we control time. No matter what we do to explain it or understand it or even fight it, time will move ahead and do its thing."
Free-flowing guitar waves, bass line undertow, and pressed vintage organ notes unspool into the future, all driven by urgent strikes and spacey vocals. As the song propels itself along, the guitars become increasingly miasmic and encompassing, conjuring up images of globules in a lava lamp if they were moving at warp speed.
In the vibrant and trippy music video, the band members are shown performing the song in the back of a bright yellow, vehicle with its top down. They cruise slowly down the desert road, filmed in wide-angle format that gives the image a disorienting skewed look.
This footage is intercut with with vignettes of a caveman and cyborg characters interacting with their '60-referencing environment, with flickering abstract designs and images of crystal balls and clocks nodding to time being a continually moving entity.
The band performance eventually moves to a psychedelic purple house situated in the middle of the desert. The abode is surrounded by a white picket fence – and lots of scrub brush, stones, and a sandy landscape baked under the blazing sun.
The director of the video, Lejla Subašić, shares some more info about the meaning of the clip, cryptically revealing, "The video pokes fun at that ego. It's an ironist's deconstruction in evolutionary relationships—the modern man playing games with the stereotypes of eras beyond his actual understanding. The cyborg and caveman each holding their own power in how they toy with the present."
Subašić continues, "We shot at a mid-century home in the middle of the desert, on a vintage truck driving in modern Beverly Hills and in front of a green screen, with cameras ranging from super 16mm film to 360° digital video, so you can feel this balance and this grappling with time in everything (down to the symbols on the band's faux-Nudie suits)."
Triptides' Alter Echoes is out now on limited vinyl and digital/streaming formats via Alive Naturalsound Records. Order the album HERE