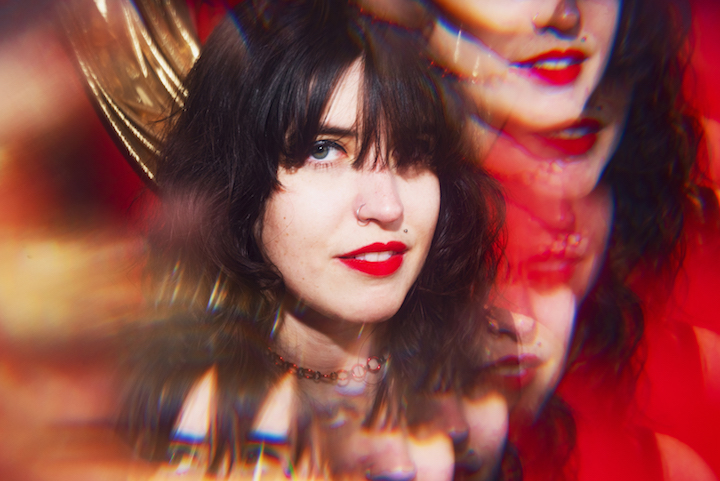 26 August 2022
Photo Credit: Noah Hollander</small
Monica LaPlante is releasing her new music video for her hit single "Compression" on August 26th. Monica wrote Compression during the pandemic.
Monica LaPlante has spent the last year expanding the love and support of the Minneapolis music scene. It's easy to believe Chris Riemenschneider of The Minneapolis Star Tribune crowned LaPlante the "Quarantine Rock Queen." Unlike most people, when Monica LaPlante was laid off during the Covid-19 pandemic, she saw an opportunity. Finally, she had the uninterrupted creative time she'd previously thought possible only for rich kids and artists in movies. It was only a few hours after dusting off her vintage drum machine, that she realized the magnitude of the situation. Who's going to pay the bills? What to do for groceries? How's [every social friend] taking this? Is that a sore throat? Was breathing always this hard?
"My apartment turned more into a concrete cell with every thought." LaPlante recalls. With nothing else to do but sit and squirm, she grabbed a microphone and spouted her thoughts and fears out in a sing-songy manner:
At first I was fine / No trouble spending my time / watching movies, drinking smoothies, doing yoga online.
The result was "Compression", an encapsulation of bottled-up anxiousness and uncertainty, set to vintage drum machines, 70s Funk bass lines, and whacked-out synthesizers. And like any other creative would do, Monica LaPlante bounced the track, put it in a folder on her desktop and moved on.
The next challenge was to get the band together Blues Brothers style and play a show. Due to an overwhelming need to create and entertain, Monica, bassist Christy Costello, guitarist Orion Treon, and drummer Austin Cecil spent the next few months of the pandemic shouting from rooftops, recording remotely and even playing a show on top of a moving van. Practicing in a studio space big enough to house an orchestra, the band was able to stand 6 ft away and safely rehearse in masks.
At the urging of her friends and bandmates, Monica revisited "Compression". It had become very clear that those feelings of isolation and paranoia were still relatable. Studio engineer Zachary Hollander of The Pearl Recording studio helped Monica dust off the tracks and mixed them to be radio ready. After premiering the track on Minnesota Public Radio and performing remotely from her bathtub, Monica's song caught the attention of photographer Areca Roe. Together, LaPlante and Roe collaborated on a music video for the surprisingly still relevant feelings of "Compression".
LaPlante can't sit still for long. Between writing and recording her own music, she also has been collaborating and supporting her fellow her bandmates in their own creative endeavors. Monica has been contributing bass and vocals with the up and coming powerhouse solo project of Christy Costello and synth-laden space rock band Extraterrestrials (fronted by guitarist Orion Treon) while human drum machine Austin Cecil holds down the fort.
While the world is forever uncertain, Monica LaPlante remains optimistic about her future. Whatever the next move will be, LaPlante will be skulking in the shadows, ready to deal the next musical punch to the gut.
Exclusive Q&A:
What is your new single about?
Compression is half thinking out loud how to proceed in a global pandemic and the other half is me convincing myself I'm not sick. The latter seems to be a rather common occurrence in my life.
What do you hope people take away from this single?
It's definitely a reminder that we were all panicking in the same sinking boat for a second.
What did you learn about yourself when writing, singing and recording this single?
I've definitely learned that scheduling time to do nothing is crucial to creativity. I was left alone with ample time to sit and think and do nothing. I felt like Compression came out of some part of my brain that I usually shut off for my day-to-day tasks. So much creativity comes from being open to more ideas.
How much fun was it making your new music video?
Working with Areca Roe was such a breeze! We were totally on the same page the entire time. I have always gravitated toward black, white and red. When Areca suggested red household items as a color pop, it only took me a matter of minutes to grab everything from my apartment. Because she's a photographer, she really makes sure that each frame is its own photograph. It's so fun to watch.
Exclusive quote from Monica for The Big Takeover:
"Watching the video is like being transported into a surreal world in which you're forced to do household tasks. I think most of us were there at the height of Covid 19. It was very much my headspace while writing Compression."
Website
Instagram
Twitter
Facebook
Bandcamp
YouTube