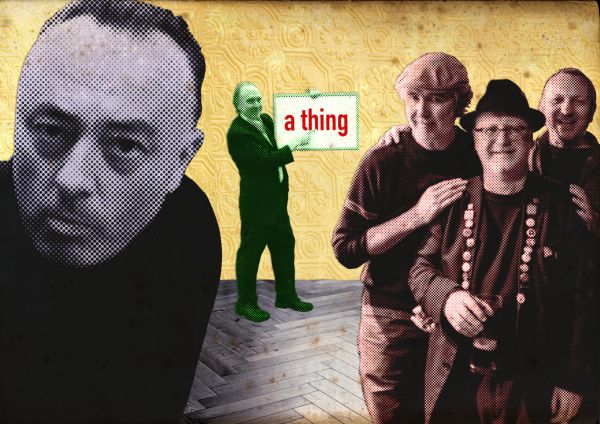 29 April 2021
Cult Figures – Photo Credit: Cult Figures
Renowned British post-punk outfit Cult Figures are back on the music radar with their recently released acclaimed album Deritend.
Formed in 1977 in Solihull, southeast of Birmingham (the UK's original Motor City), Cult Figures were part of the same scene that gave rise to pioneering DIY punks Swell Maps. Indeed, the Maps played a major role in the making of Cult Figures' now sought-after debut single "Zip Nolan" and follow-up In Love EP.
Having split in '81, the band regrouped in 2016 to record an album of their original material, The 166 Ploughs A Lonely Furrow. Latest album Deritend, is out on Gare Du Nord Records and represents their first new material in 40 years.
Big Takeover is pleased to host the atmospheric music video for the flowing and contemplative jangle pop track "Concrete and Glass."
The song itself is an emotionally and vocally deadpan meditation on London's ever-changing skyline; a lament for lost adolescence glimpsed in the cold steel reflections of faceless urban regeneration
Cult Figures' longstanding singer Gary Jones relates, ""Concrete and Glass" was inspired by something my wife said while we were walking around London's Soho. The gentrification… 'all the buildings going up, and the buildings coming down, were making her frown…' took the narrative off into a hazy Soho nostalgia trip from the halcyon days of carefree youth."
The monochrome-visuals music video, shot in bleak blacks, steel grays, and shining whites, continues and magnifies these contemporary themes.
The video clip was filmed during the first lockdown in April of 2020. It features Jones ambling pensively across the network of elevated walkways that connect the brutalist towers of the Barbican Estate, a concrete ziggurat once voted 'London's ugliest building.'
He reminisces about the past – but also faces the present and future of a city that is always structurally changing, with old places gone under, and new, anonymous-looking buildings springing up, erasing any connection to the past.
Deritend is available physically from Bandcamp and digitally HERE