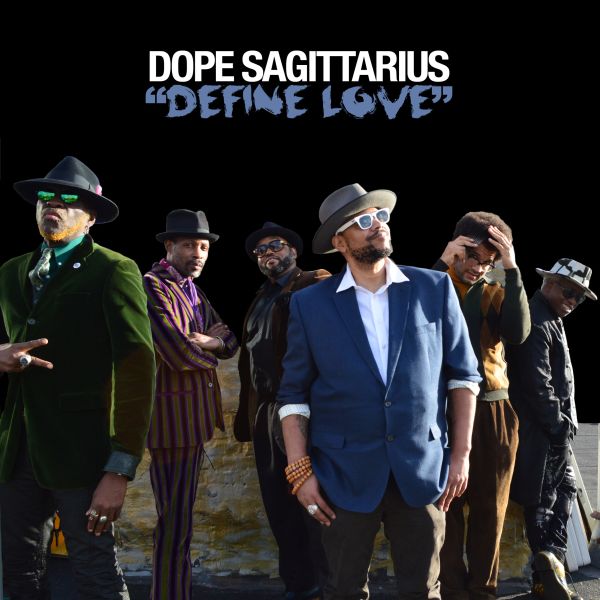 16 March 2021
Dope Sagittarius – Photo Credit: Jana Jeroz
It's not every day that we feature an artist who escaped death in order to celebrate the release of new music with us. Today is our fortunate day as we premiere the smooth and brilliant track 'Define Love' by NYC-based rock-punk-funk fusion outfit Dope Sagittarius.
'Define Love' is an alt-pop jazz-inflected piece involving a host of talented musicians. Filmed at Studio 111 Brooklyn, the music video was produced by LaRonda Davis for Primordial Punk and directed by James Muscarella.
Big Takeover is pleased to host the premiere of the alluring performance video of the soulful track that mixes old-school balladry with more foreboding touches, particularly in the duskily sung backing vocals contrasting with the heartfelt lead vocals. A rock guitar line even winds its way around the gentler jazz instrumentation, making this a true hybrid tune.
The music goes down easy. The production is impeccable. This is a collective fueled by talent enough to drive a city. Not quite a new band, Dope Sagittarius is still a definite outfit to watch in 2021.
They've has also just announced that they will release their Sacred Places album on 12" vinyl this spring via their own imprint Buddhabug Records.
Dope Sagittarius is the brainchild of New Yorker Luqman Brown, whose mother is a folk-singer-turned-teacher and father a well-known playwright. The independent spirit of art in his blood got amped up early upon seeing Funkadelic at the Apollo. By high school, he had joined his third band — punk-funk outfit FunkFace, who first opened for 24-7 Spyz and soon Fishbone, slowly rising to prominence through hundreds of shows and three studio releases.
""Define Love" is a really special song for me and the first real love song I've written. I had Micah Gaugh (The Veldt, Burnt Sugar, The Arkestra Chamber) playing sax, jazz luminary Marc Cary (who's played with Dizzy Gillespie and Meshell Ndegeocello) on piano, the incomparable Corey Glover (Living Colour) on backup vocals, and finally, the Master himself, Ronny Drayton (who's played with everybody from the Persuaders and The Chambers Brothers to Defunkt, Nona Hendryx, and 24-7 Spyz) on guitar. Unfortunately Ronny passed away in 2020. He inspired me by teaching me to be a better guitar player and just because of how great and good he was. The video for this song is dedicated to him. (R.I.P.)," says Luqman Brown.
While the Sacred Places' album was originally set to release in 2017, Luqman suffered a stroke. Everything screeched to a halt while he learned to speak and walk again, followed by heart surgery in 2019. After two years of continual recovery, he's back and ready to present this album, as if he's never missed a beat.
This collection of tracks presents a rich tapestry of funky grooves, thoughtful synths and rocking vocals, featuring contributions by such achieved artists as Ronny Drayton, Corey Glover, Mike Ladd, Marc Cary, Roy Radics, Mazz Swift and Michah Gaugh.
"Being able to properly put this record out into the world means that I didn't give up in the face of death. This album was supposed to be released in 2017, but I had a stroke as a result of severe complications with my heart. In 2019, I underwent heart surgery to place an LVAD in my heart to keep it pumping. The result of these health complications left me weak and without the breath to perform," says Luqman Brown.
"At the time, I thought that myself and this album would never make it out into the world—as proud as I am of it. Nevertheless, I slowly came back and now the world will get to hear what it's like living in NYC every day—hard times, staying alive, and taking the time to have a good brunch along the way."
'Define Love' is out now across digital stores such as Apple Music and streaming platforms at Spotify. The _Sacred Places'_LP will be available on vinyl this spring, and can already be pre-ordered directly through Buddhabug Records
CREDITS
Performed by Dope Sagittarius
Written by Luqman Brown and Brian Gosher
Produced by Brian Gosher
Recorded in Harlem, New York and North Brunswick, New Jersey, except 'LaRonda'
Mixing and Mastering by Brian Gosher.
Dope Sagittarius
Vinyl pre-order
Facebook
Instagram
Twitter
YouTube
Spotify
Apple Music