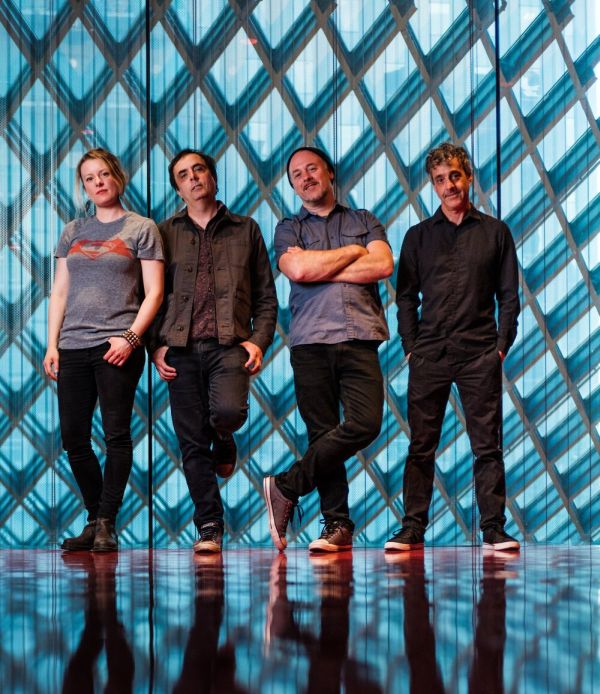 16 March 2021
The Purrs – Photo Credit: Ken Lapworth
The Purrs are a Pacific NW band that have used feline grace and ferocity to capture the hearts of live music fans and recorded dark psych(e)-pop addicts for over a decade. But though they've made a name for themselves ecstatically playing venues and festivals, they have waited for the perfect moment to unleash documentation of their live performances. Now is that time.
The band will be unleashing their live performance album We Thought There Would Be More People Here on May 7th.
The cheekily titled LP is a long, full set of their nocturnal song-gems. If you love in-concert classic albums such as U2's Live at Red Rocks or Siouxsie and the Banshees' Nocturne, you should be all over this one as well — It's the perfect soundtrack for a lockdown living room party.
The Purrs have a timeless quality for lovers of rock as a mystery religion, the kind of venue-addicted musicians and fans who unite, transmitting heavy vibes both Medieval and futurist between psychedelic music and post-punk rock. Back when live music consumed your nights, they were Seattle's best bet for a rigorous, relatable, trippy, dark, and yet completely communal time.
Produced by Johnny Sangster and The Purrs, live albums are rarely as sensually intoxicating and filled with crepuscular verisimilitude as We Thought There'd Be More People Here, in which you can smell the neck of the pint-wielding giant in front of you and the sweat of the sweetest, deepest fans dancing perilously near your toes. High points include "Taste of Monday," "I'm Leaving Today," and "Get Me Through This," but it's all about the full album-as-set experience.
Big Takeover is pleased to host the premiere of the sci-fi themed video for "Yes I Do," a hypnotic and psychedelic-tinged Western plains ranger that melds British and American rock music influences.
The spacey song gets a visual match with a run of footage from two vintage Russian science fiction movies set in space. The video clip was put together by Stephanie Neil and compliments the trippy sonic vibe of the song. The footage is taken from filmmaker Richard Viktorov's Moscow-Cassiopeia and Adolescents in the Universe from the 1973-74 time period.
Lead singer Jima Antonio sheds some light on the meaning of "Yes I Do," explaining, "This song came from the frustration I felt in my youth when I realized that being "the nice guy" was often not the path towards getting laid. There is a heavy Bunnymen influence in the guitar parts. Probably because I think they are one of the greatest bands ever. LOL."
Preview tunes from We Thought There Would Be More People Here at CD Baby
Website
Facebook
Twitter
Instagram
Bandcamp
Spotify