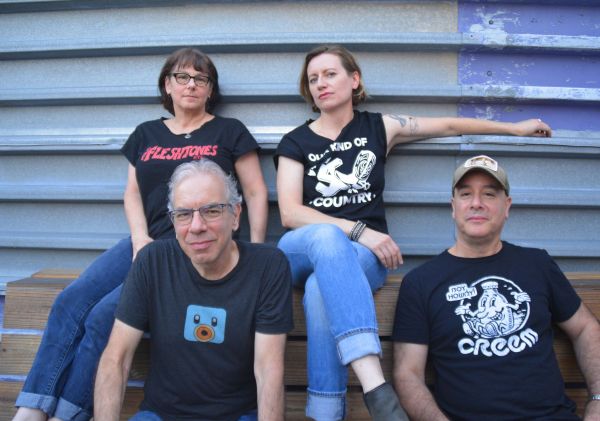 6 March 2019
Girls on Grass – Photo Credit: Amanda Thorpe
Brooklyn-based garage rock/roots music band Girls on Grass are getting ready to release their second album, Dirty Power, on April 5th via September Gurl Music.
Girls on Grass is led by music veteran Barbara Endes (writer, singer, guitarist). She's joined by a bevy of talented musicians in the form of drummer Nancy Polstein (the Friggs, Cheri Knight, Star City), blues/alt-country vet David Weiss on lead guitar (replacing Sean Eden), and East Orange, NJ's WFMU radio host Dave Mandl on bass.
The band employs a richer sound on Dirty Power, most noticeably with the vocal harmonies. There's also a distinctly political edge, which only occasionally turns literal. The LP's relevant overarching themes are about power; on how power, in its various forms, shapes both our private and public lives. And how these realms interconnect.
Dirty Power kicks off with the track "Down At The Bottom," which sets the tone with an invitation from Endes to join her in opting out of a hyper-competitive society. The coolly loping, up-tempo track features a strictly timed, pushy drum beat, twangy and shining guitar line interplay, a wandering bass line holding the low end, a touch of peppy tambourine rattle, and infectious vocal harmonies.
The Big Takeover is mighty pleased to host the video premiere for the song "Down At The Bottom". Sunny beach scene images and clips flit quickly by on the screen, sometimes overlaid with clips of the band performing onstage. Endes is showcased singing – at first on a commuter train with the picture shot in grainy black and white to signify the dull daily grind. Then she appears as the focal point in colorful scenes of the shore, a kaleidoscopic and fun contrast to a draining day at work.
The video was filmed in Coney Island, chosen because the beach figures into the imagery of the song, and Coney Island is one of the most accessible, least bougie beaches in NYC. This song, and video, are all about the opposite of the exclusive and inaccessible.
Endes explains the meaning of the rousing song in more detail, stating, "I wrote the main guitar riffs for this song right after I got my 12-string. The riffs put me in a kind of freewheeling mood, so the lyrics that followed are about getting over society's expectations, being yourself and being with who you want to be with. It's the upbeat part of a personal-political thread that runs through the rest of the album, which is definitely a reaction to what's gone on here in the U.S. of A. since we made the first one [/album]."