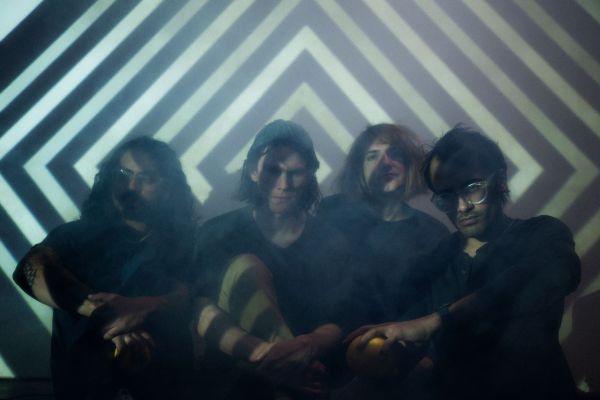 25 March 2021
Mute Swan – Photo Credit: Rose Clements
Tucson, Arizona-located Mute Swan blends '90s dreampop and shoegaze with neo-psychedelic rock to striking effect, balancing noisier indie rock aspects with sweeping atmospheres.
Mute Swan formed in 2014 and is composed of Mike Barnett (guitar, vocals), Prabjit Virdee (bass, vocals), Thom Sloane (guitar), and Gilbert Flores (drums). Their star is rising fast, drawing the attention and acclaim of Fader, Post-punk, Impose, and more.
The band have released two EPs, an LP, and a handful of singles and videos – all self-produced. They've opened for the Psychedelic Furs, Modern English, Wild Nothing, Kikagaku Moyo, No Joy, and Wand, and have toured the US extensively.
Their latest album, Only Ever was self-released at their official Bandcamp on February 5th, but it will also be available on vinyl LP and digitally April 16th via Shifting Sounds in the UK and Europe. Going forward the Austin, Texas and London-located label Shifting Sounds will be releasing all of the band's future output.
Big Takeover is pleased to host the premiere of the lo-fi, but high visual impact music video for the atmospheric "Enough Fun."
The track lurches woozily with reeling guitar abrasion, afterburn bass line, and jumpy drum beats. Vocals are dazed and hazy, but are streaked with delight, buoying the grinder into a drawn out dreamstate.
The storytelling video clip seemingly unspools vintage footage, but was actually filmed specifically for this song, with the band members playing specific characters.
It has an out of focus look as it follows the path of a driver who picks up various people – a wealthy businessman (in a blond wig), a religious figure, a law enforcement officer – with money casually changing hands.
They all end up at a clandestine meeting at a hotel with money to burn, figuratively and literally – each representing a social institution that has overreaching power in the US, and around the world.
Barnett digs into the deeper meaning behind "Enough Fun," explaining, ""Initially this song was in reaction to the brutal handling of the Dakota Access Pipeline protests. But more broadly it's about the feeling of futility in the face of corporate power structures in the US. While activists risk their lives, politicians and the corporations who fund them, have their fun squashing the will of the people."
"The video was a fun way for us to express criticism towards these and other American institutions, whose interests conflict with the general population. We worked with VHS wizard Adan Martinez Kee, a close friend whose style was a good match with our lo-fi aesthetic."
Pre-order Only Ever in the UK and EU at Shifting Sounds Bandcamp
Get Only Ever now in the US at Mute Swan's Bandcamp