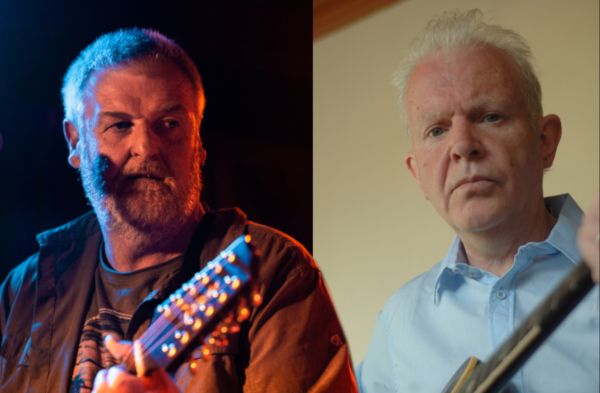 29 June 2021
David Long and Shane O'Neill – Photo Credit: David Long photo by Ivan Rakhmanin. Shane O'Neill photo by Sabrina Colley
Just recently we had mentioned how it seems that, as of late, Ireland is bursting at the seams with a plethora of fantastic music. And that can only be a good thing – there are certainly enough ears in this ocean of humanity for the music to go around.
Today we present yet another artist from the Emerald Isle – well two, to be exact.
Shane O'Neill and David Long may be well known as frontmen of '80s bands Blue In Heaven and Into Paradise, respectively, but they are new to the music scene as a duo per se.
Soon they will be releasing their "Far From Home" 3-track single, bringing the world some new inspiring new music. Raring to go with their new music output, listeners will be pleased to find that the singer-songwriters have a rich and mature sound, on par with the best works of Tom Petty, Beck, and the Go-Betweens, although The Sound also comes to mind; not surprising since the third track "Hand of Love" is actually a cover of this band, penned by the one and only Adrian Borland.
A welcome breath of fresh air with enough gusto carry over from the duo's post-punk days to intrigue the listener. This release captures a shared sense of both nostalgia and optimism with melodies and harmonies that soar assuredly, building on a solid orchestration, resonating with interest in what their forthcoming album Moll & Zeis – due for release in August – will bring. As we've seen done with many artists as of late, for good reason, these tracks were recorded remotely over a distance due to lockdown limitations.
Big Takeover is pleased to host the premiere of the music video for "Far From Home," a reflective rocker that flows with a supple bass line, sharp to glowing guitar riffs, shaken and clacking percussion, a touch of synths, and a simmering drum beat.
The vocals and emotions are low-key, but clear, with lyrics that focus on displacement, both geographically and relationship-wise.
The music video itself mixes footage from a vintage film that showcases the life of people from a past agricultural-based age with images of the present that display the daily turmoil of people living in Arab states/countries.
Flashback to the 1980s… David Long was the face of the band Into Paradise, who released two albums and several EPs on legendary British independent label Setanta Records and also one major – Ensign. Their most successful album was their major record label debut, the Adrian Borland-produced Churchtown.
Shane O'Neill fronted Blue In Heaven, who recorded / released a few singles and demos (including one produced by U2's The Edge) before signing to Island Records in 1985. Their debut album All The Gods Men was produced by Martin Hannett (Joy Division, Magazine, New Order, OMD, Happy Mondays). 1986 brought the Explicit Material LP, produced by Island Records head Chris Blackwell and Eric Thorngren. Their popularity grew as they toured with the likes of U2, Echo & The Bunnymen, and The Damned. In 1990, the band reformed as The Blue Angels.
Hailing from the same part of Dublin, Long and O'Neill have known each other since they were 6 or 7, when they knocked over Shane's TV set, fighting over which channel to watch. Their first band was a trio called amuse with David on bass and vocals, Shane on guitar, and Dave Clarke (Warren Zevon, now Hothouse Flowers) on drums. After splitting and doing their separate thing, around 1996 they recorded an album as Supernaut.
Their new music output can be described as folk art garage rock, recalling a time when bands were raw and unrehearsed. Atmospheric, emotional, not interested in technique, or campfire sing-songs. The reverb is as important as the notes in some places, and it's a good thing if you cannot recreate the full sound live.
"We wanted to make an album that could and should be listened to all the way through. It was an equal collaboration, Shane and myself have known each other so long that there was never a problem editing each other if something didn't fit with the song. We had no time restrictions, or release dates to go by, so we took our time with this album and thought about every aspect of it, song titles, running order, album cover, album name, and what songs to leave on and leave off. The instrumentals are very important to the album's story.," says Dave Long.
"We were always the kind of musicians who couldn't play other people's songs properly, barely able to play some of our own songs. We've always loved music but didn't always get some of the community surrounding it. I was trying to use my memories of working with Hannett to help create atmospherics and space behind the guitars and drums, (he used to stop the tape and joke it was mixed if the echo was interesting). Dave wanted an early style of guitar I used to play, less bar chords, more angular ringing notes," says Shane O'Neill.
As of July 16, the "Far From Home" maxi-single will be available across online and can already be pre-ordered at Bandcamp. The Moll & Zeis album will be released everywhere digitally in September.
CREDITS
Written, arranged, recorded and produced by David Long & Shane O'Neill
Album Cover Art by Noel Farrell
Country Pylon Recordings 2021
David Long and Shane O'Neill
LINKTREE
Bandcamp
Twitter
YouTube
Spotify
Apple Music