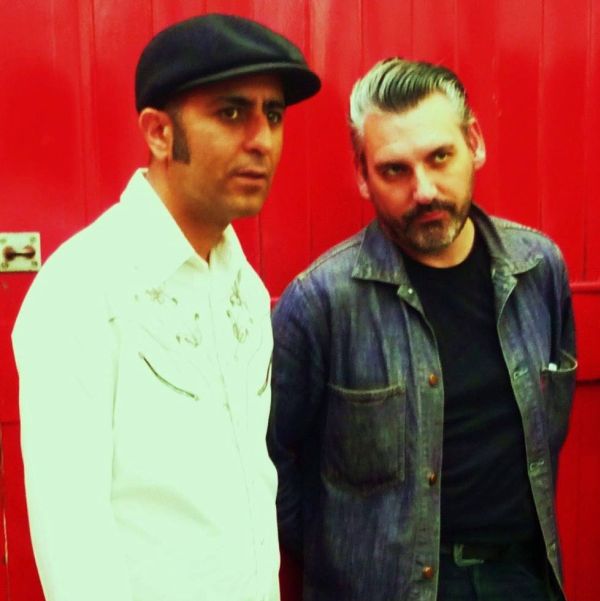 13 May 2020
Arash & Paul of Beat Hotel – Photo Credit: Paul Rose
British power pop collective Beat Hotel are back with a new lively video for the lead track from their eponymous EP. Based between Brighton and Plymouth, Beat Hotel was formed in 1988 by Arash Torabi (The June Brides, The Distractions, The Granite Shore) and Paul Pascoe following a gig by The Jasmine Minks' (first band signed to Creation Records). Many years later, their first released Beat Hotel single also featured The Jasmines' frontman Jim Shepherd.
"The idea for the record sleeve came from the photograph that our friend (D.C. Cane) had taken of the view from the top of a stairwell in an apartment building in Paris. It immediately made me think of the poster art for "Vertigo" and I really love all that 60s geometric design aesthetic. So I took that as our cue and it was me that put the design together," says frontman and producer Paul Pascoe.
"It was the lockdown that made me finally realize that I could get an animated video made without any physical human interaction being necessary and run with the whole "Vertigo" Hitchcock/Saul Bass graphics idea! Fortunately I know an amazing animation guy called Simon Hill and he made the idea come to life brilliantly. He incorporated the cover photo and we looked at the famous title sequence for Vertigo and also The Man With The Golden Arm and Casino. So Simon made our "falling man" and the whole thing works so well with the sentiment and lyrics of the song."
This current Beat Hotel EP – a stunning 6-track work that stands shoulder to shoulder to the best music ever released by Creation Records – also involves current and former members of The June Brides, The Loft, The Weather Prophets, The Distractions, Mudlow, Mojo Fins, and Lolita Storm.
With a strong live presence on the local scene, they had recorded plenty of demos, but did not release any recordings until 2013 with the double A-side 7" 'Best of Our Years / The Fire'. At that time, the band was permanently joined by Dave Morgan, drummer from The Loft and The Weather Prophets (two other Creation Records' artists), who also played with The Rockingbirds and recorded with The Jazz Butcher, Primal Scream, Vic Goddard, Subway Sect, and ATV.
They were later joined by guitarist Stephen Brett after recording at the legendary Rockfield Studios and playing Glastonbury with his former band Mojo Fins. Stephen also performs solo as SJ Brett. Also guesting here is Frank Sweeney of The June Brides and now Magic City Trio, with a recordings to his name for Primal Scream, Felt, and Slaughter Joe.
This long-awaited release presents a melodic, psychedelic wall of sound, a touch of garage rock & roll and balanced with more laid-back, strings-laden atmospheric vibes. Of these tracks, five are originals written by Paul Pascoe, plus there's a cover version of 'Beat Girl', originally recorded by ex-Loft member Bill Prince's band The Wishing Stones in 1986. Frank Sweeney from The June Brides (Arash has also been a member since their reunion in 2011) also added some stunning strings and piano parts on this track.
Recorded at Church Road Studios in Hove, this record was produced, mixed, and mastered by Paul Pascoe, the band's lead singer, guitarist, and songwriter. Also, a member of Brighton bands Mudlow, Palm Springs, and Perfect English Weather, previous studio work includes the last two albums by Barry Adamson of Magazine and Nick Cave and the Bad Seeds' fame.
The Beat Hotel EP is available on 12" vinyl earlier, as well as digitally across online stores and streaming platforms, including Spotify, Apple Music, and Bandcamp. Physical orders also come with MP3 download
Since you're here, why not also enjoy their full album?
BEAT HOTEL
Facebook
Bandcamp
YouTube
SoundCloud
Spotify
Occultation