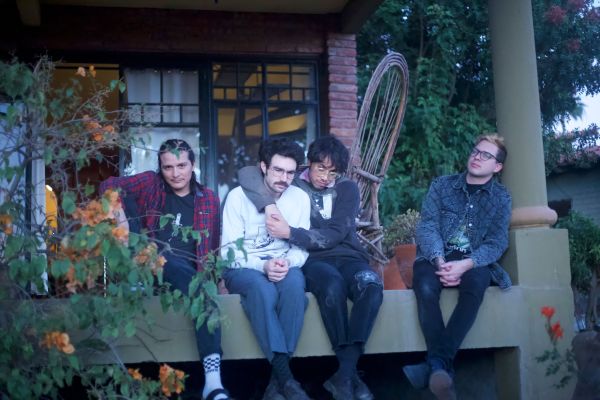 15 April 2021
Buckets – Photo Credit: Max Look
Filled to the brim with bright, infectious guitar riffs, multi-dimensional structures, and catchy hooks, Los Angeles-located indie rock band Buckets are finally ready to unveil their self-titled debut album on April 23rd via Broom Closet Records.
Mostly self-recorded and produced, the engaging album was over a year in the making. Between several professional studios, apartment setups, and ultimately quarantined-style settings due to the pandemic, the collection of 9 tracks provides a powerful exemplification of Buckets' energetic and explosive sound.
Tanner Houghton's unvarnished and outspoken vocal style, paired with Sasha Massey's hyper-focused lead guitar playing allows the rhythm section (held down by Hiram Sevilla on drums and Mitch Rossiter on bass) to fully explore the dynamic extremes that encompass the band's take on the indie music genre.
The group's emotional and intense performances leaves them in a league of their own, and is sure to catch the attention of any and all listeners.
The seasoned punk rock players come from all across North America. Originally from San Luis Río Colorado, Sonora (Mexico), Seattle, Washington, and Toledo, Ohio, the group converged while in LA through a series of Craigslist posts, house parties, and backyard shows.
With impassioned plans to tour both the U.S. and Mexico in 2020, Buckets had to put their road warrior intentions on hold due to COVID-19 and focus on completing their debut album. Now, with a full length record ready for the world, and a hopeful end in sight to the ongoing pandemic, the band can finally move forward and make a big splash.
Big Takeover is stoked to host the premiere of the performance music video for quiet-loud single "Figure It Out" that houses a supremely catchy exclamatory chorus section that will swim in the brain for days.
In the video clip the band members are shown traveling to a birthday house party with preparations underway and a chocolate-frosted cake waiting on the table. Crepe-paper streamers flow from the walls and various birthday/party hats are donned.
Drinks are drunk, cake is eaten, and the band performs for the celebration, getting entangled in the streamers and leaving the room in after-party disarray with Houghton maintaining a morose demeanor throughout, in keeping with the lyrical turmoil of the song.
The band members generously took the time to reply to a few questions about their new LP and outlook for the future:
"COVID and the subsequent lockdowns seem to have played a major role in the making of your new LP. Talk a little bit about some of those specific experiences."
Hiram Sevilla: "Yes indeed, it hasn't been that easy and we are still trying to figure things out."
"Like many folks, some of us lost jobs and housing. I had to move down to my hometown in Mexico due to the border lockdown. We had to finish the self-titled LP through a bunch of texts, phone calls, and sending files back and forth. Then we came up with the idea of getting the band back together in Rosarito, Mexico, since I couldn't cross to the US. We all got tested for Covid and shot this music video and played together again, which was a big relief."
"This lockdown gave us some time individually to explore our sound and to start writing and recording new songs, which we are really excited for and hoping to share them with everyone soon."
"The 'Buckets sound' seems to revolve around the 'loud/soft' dynamic, but also more prominently at times the 'spare/textured' choices in tones. Are you influenced by anything on the shoegazer side of the spectrum, or any producers and artists who tend towards more roomy sounds?"
Sasha Massey: "Shoegaze has always been a huge influence on me personally. I think I speak for us all when I say bands like the Pixies and such had an early impact on us and how they utilized dynamics to create bold contrast. I think with this project it was less about trying to say, "Okay, we're a shoegaze band," or a loud/soft band, and more about borrowing a lot of the textures or dynamic styles present in those types of music, and making it something unique to us."
"Swirlies, Sweet Trip, and Basinski were some pretty huge influences for me while working on this album. Their use of distortion and degradation of noise while making something beautiful and new to listen to will always continue to amaze me. Obviously we can't easily list all our influences separately, but these are some big ones that stand out to me thinking back on our writing process. Also, I recently unironically got into 311 after insistence from our drummer."
"There is a lot of yearning and striving in your lyrics; lots of self-criticism, but hopefully for the sake of growth. "I'm losing health, I'm losing weight, I need some help, I need some faith" is a very powerful line. I'd love to hear what "Figure It Out" is about in your words."
Tanner Houghton: "I wrote "Figure It Out" about so many things. The main theme of the song is all about the human condition and constantly having anxiety about not knowing who you are, or what you're supposed to do next. The track was written as an ode to taking space and time to figure out those exact things."
"It makes me feel nostalgic almost, it makes me miss some of my old life and my old friends, but it serves as a reminder of why I left my hometown and so many other things behind in the first place. Finding my place in the world and searching for a sense of belonging has often lead to a feeling of hopelessness, which has often led to me succumbing to my vices as some form of escape. The opening line of the song is a reminder for me to continue to carry myself with humility, because I am the king of mistakes and want to embrace that so I can continue to learn from them every step of the way throughout life."
"Is there anything you'd like to leave us with, or anything we should keep an eye out from Buckets after the new LP drops next week?"
Mitch Rossiter: "Mainly, we're just excited to finally share this record with the world and are stoked to have a cohesive collection of our work that's been through the ringer since the band's inception. It's been tough to get from A to Z on this album due to the pandemic, Hiram's temporary relocation, and plethora of others things, but we're all thrilled at how it came together."
"Our good friend Max Look tagged along on our trip to Rosarito and threw together the "Figure It Out" music video while we were there filming some live sessions and doing the final touches on the album. Our long weekend together happened to land on Hiram's birthday, so the video reflects the contrast of how excited and happy we were to be together while celebrating his birthday (cake and all), and the dismal state of the world at the time, knowing we wouldn't be playing together again for a while."
"We're actually currently working on a new EP that should be wrapped up soon and plan to tour as much as possible starting this fall, so long as it is safe to do so. We have plenty of stuff on the horizon, and we hope people keep their eyes peeled!"
Buckets' self-titled album is available for pre-order at Broom Closet Records' Store
Website
Bandcamp
Instagram
Facebook
Twitter
Broom Closet Records Website