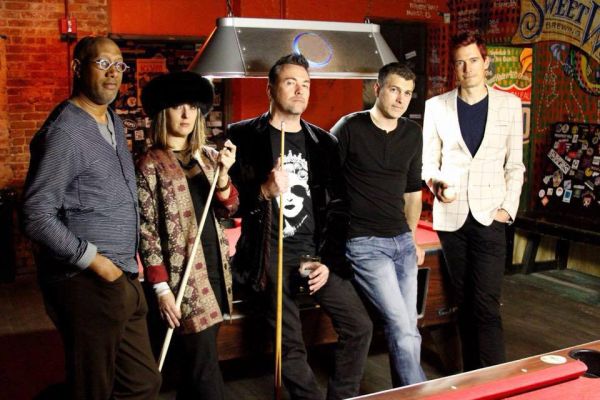 19 November 2019
Morning Bells – Photo courtesy of Morning Bells
North Carolina certainly has been a hotbed of artist (especially musical) talent in the past half decade or so, with such bands as The Veldt, Crooked Ghost, Polly Panic, Jon Lindsay, and many more coming to the forefront with new releases again and again. Today we have the pleasure of introducing you to yet another group – from Raleigh. Indie pop-rock outfit Morning Bells will be releasing their debut EP Fall From The Velvet Sky on December 13 and we present the lyrics video for the lead track 'Ghost Story'.
With a vintage record player spinning and bathed in a burnished patina, the lyrics to "Ghost Story" materialize on the screen. The track itself is a retro-tinted, structured psych-rocker running on vibrant guitar lines, occasional wavering organ notes, and sharp cymbals tap. The vocals are rich and forthright, delivering the narrative lyrics with a foreboding touch.
Morning Bells' music is debonair. It begins with a sound reminiscent to what you would imagine upon entering a Buddhist monastery, before entering a strong melodic train, whose beat has you swaying back and forth like the ebb and flow of the music. But there is a somewhat autobiographical relationship-based thematic happening with a sinister AAA-friendly vibe as the backdrop throughout. The musicianship is superb, cleverly developing along the way, leading you through the tale told here. Professional song-crafting and production are apparent here, previewing what, admittedly, is an outstanding debut release.
Morning Bells is a five-piece comprised of Bryan Fransman (drums, percussion, vocals), Ric Denton (vocals), Emory Ball (guitars, percussion), (Laura Weislo* (fretted and fretless basses, vocals, synthesizer), and Peele Wimberley (keyboards, vocals, percussion, guitars).
Although this music ought to please fans of David Gray, Pete Yorn, The Wallflowers and Yo La Tengo, the band counts numerous legends among their key influences, including Johnny Marr / The Smiths, Television, Yo La Tengo, The Gun Club, David Sylvian, Tori Amos, and Talk Talk.
"We're all very proud of this release but, for some of us, it's our first ever release of a creative effort like this. That's beyond words in many ways. Being able to say "We made a record" feels like the most impossible dream coming true. We chose these five songs because we think they're some of our best work, we feel they tell great stories, and that they're a great snapshot of the full range of emotion and musicianship within all of us as a band," says Ric Denton.
"The music is a collaborative effort that is often created to fit the mood of the lyrics although, sometimes, the songs have started with the music coming first in a random moment of free-flow during practice, so we seize on it because we know it's meant to become a song, and the words are born after. The lyrics, however, are all very personal. Every song has been inspired by actual events or people, so you're hearing stories of a life and how it's unfolded. To write anything less honest would be obvious to the listener, and we couldn't be inspired as artists."
Morning Bells formed when drummer Bryan Fransman returned to music, approaching his long-time friend Ric Denton about singing with him. They were soon joined by Laura Weislo, who had played in bands in college, but stopped when it stopped being fun. Having known Ric since college, it was destined to be…
Emory Ball also joined, having been Laura's bandmate in several bands, including Bellbats, having recorded with the great Mitch Easter (R.E.M., Ben Folds Five, Pylon, Helium, Pavement, Suzanne Vega, Game Theory, Ken Stringfellow) … The deal was sealed and they had their full lineup.
The final piece of the puzzle was Peele Wimberley. Formerly a drummer in several other bands (The Veldt, The Connells and Bellbats). Having recently returned from a lengthy stint in Los Angeles, he was wooed by the opportunity to try his hand at keyboards and as a recordist.
As of December 13, Fall From The Velvet Sky will be available on CD. The album is already available across digital stores such as iTunes and streaming platforms such as Spotify. It can also be ordered directly from the artist via their Bandcamp page.
CREDITS
All songs written and performed by Morning Bells
Recorded at 2018-19 at Pershing Hill Sound and our homes
Engineered by Greg Elkins and Peele Wimberley
Mixed by Peele Wimberley
Peele Wimberley – Keyboards, Vocals, Percussion, Guitars
Laura Weislo – Fretted and Fretless Basses, Vocals, Synthesizer
Ric Denton – Vocals
Bryan Fransman – Drums, Percussion, Vocals
Emory Ball – Guitars, Percussion
Photos by Susan Sage
TRACK LIST
1. Ghost Story
2. Through The Dark
3. The Truth Is
4. The Night You Touched My Hand
5. Tonight
Also check out the band's lyric videos for 'Through The Night' and 'The Truth Is'
MORNING BELLS
Website
Facebook
Twitter
Instagram
Soundcloud
Spotify
Bandcamp
Digital orders
Apple Music
Google Play