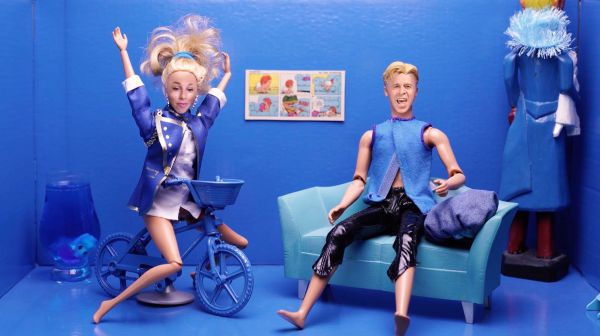 24 August 2020
Tiny Bit of Giant's Blood – "Girl Over Here" video still
How do you shoot a music video during quarantine? You superimpose self-filmed faces onto Barbie dolls to make a freaky poly-amorous soap opera.
Chicago-located glam punk band Tiny Bit of Giant's Blood has done just that with their new music video for "Girl Over Here," a catchy and vibrant rock track that appears on their most recent album Gigantosaur
Big Takeover is stoked to host the premiere of this cheekily inventive, cinematic video that perfectly fits the lyrical narrative of the sonically bold rock 'n' roll tune.
The band members and actors filmed themselves with iPhones, and the remotely shot, produced, and edited music video is more a reflection of quarantine ingenuity than the disgusting amount of sourdough this pandemic has resulted in. It will also forever change the way you think about Barbie.
Proving that a global crisis can ignite new skills, TBOGB front man Tony Rogers not only shot his daughter's Barbies with his film student son Lincoln, but also taught himself CGI to marry the actors' faces to the dolls. The video features one Barbie getting high in a bathtub, another giving birth to a singing baby, and yet another choking a rubber chicken.
Rogers and band mates John Scholvin, Jackie Schimmel, and Larry Beers stay closer than 6 inches (not feet) apart by way of their Barbie counterparts in KISS-like performance montages, and actors from around the country are featured as supporting characters (including that birthing mother).
And keep watching after the song's end to see a brief clip of how the individual scenes were ingeniously set up before the camera rolled.
In a time where band practices (let alone video shoots) aren't allowed, TBOGB managed to create a music video that brings the band close together in extraordinary new ways.
Tony Rogers (the video's creator) is also behind the 3-million-views-and-growing PBS YouTube phenomenon Alphabites, and is also the writer of "Great," a song that made a whole lot of us cry while watching a Purina Pro Plan commercial a few years ago.
Website
Facebook
Instagram
Bandcamp
Spotify