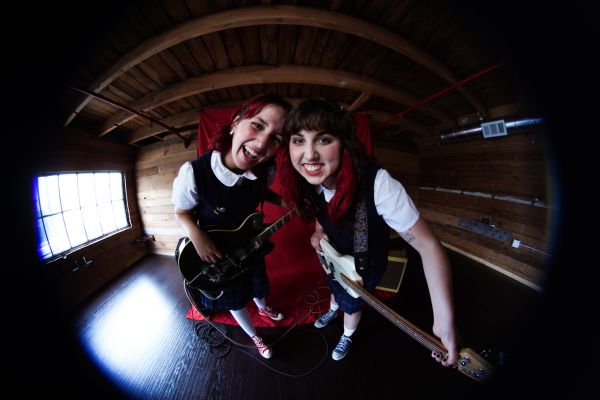 20 October 2021
Mediocre – Photo Credit: Ginger Port
Though Mediocre are a young band, the songs they've been gifting us lately are that of a group who know exactly what they're doing.
The Los Angeles-located duo of Piper Torrison and Keely Martin craft songs range from crackling grunge to nuanced, jangly dreampop.
Their latest single "Give In," and second for Dangerbird Records' Microdose Series, is a moody, revelatory song about the the bittersweet embers of a fading romance.
Big Takeover is pleased to host the premiere of the captivating and heartfelt performance music video for "Give In."
Opening with reverb soaked snare hits, the song's shuffling beat carries forward the misty layers of guitar and vocal harmonies.
The simple, domestic visual accompaniment evolves into a hallucinatory collage that captures the loneliness of lost love. The true magic happens in the track's closing bridge, with a crescendo of orchestral flourishes bleeding into the pared down outro.
In contrast to the power pop energy of their previous single, "Waiting For Your Heart," the new single showcases the bands wide range and diverse emotional palette. We're all eager to hear a full length offering from the rising young group.