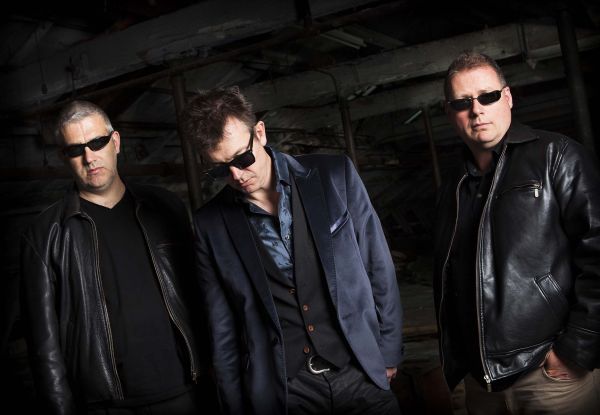 19 October 2021
Inca Babies – Photo Credit: Steve Nicholl
Our musical explorations take us back to Manchester today and it's for good reason. After all, how could we stay quiet when Manchester post-punk lifers Inca Babies have announced they'll be releasing a new album – their first long-player in seven years and their eighth studio album overall. 'Swamp Street Soul', an 11-track offering, will be among us as a full-fledged release in November.
Having gone through various incarnations, today Inca Babies is a trio made up of Harry Stafford (guitar, keys, vocals), bassist Vince Hunt (A Witness, Blue Orchids), and Rob Haynes (The Membranes, Goldblade) on drums and percussion.
Check out the lead track 'Walk In The Park' below, an exciting debut for the trio's new material. This is a beautifully wrought song and the type of musical experience that grows on you each time you listen to it.
The production integrity is particularly notable and the twangy baseline sits in your brain well after listening, causing you to return for another dose of the Incas. Reverb guitar ripples lend a noir aura tot he track, that paces with a measured drum beat and lurks with a shadowy bass line. Stafford's (dis)passionate exclamations ring out amid in true post-punk fashion
The video only makes this more endearing as it focuses on Stafford hanging out in, yes, a park setting all green and refreshing, but he never gets too comfortable, opting instead to sit on a bench and play a bit of guitar and sing the song, but also stand around expecting something that never comes… Sometimes life just isn't a walk in the park!
Already looking forward to hearing the rest of the album.
The band will apparently be playing some live dates too, so this is something concert-goers in the UK can look forward to. A North American tour doesn't look to be in the cards, as is the case for most artists these days.
Between last year's 'Gothic Urban Blues' solo album and this year's 'Bone Architecture' collaborative album with punk and blues veteran Marco Butcher, Incas frontman Harry Stafford would seem to be among the most prolific songwriter-recording artists to come from today's music scene in England's northern capital.
"Having had some time away from the Inca Babies (I have released three solo albums, all piano and jazz blues based), it was important that I got back to the rudiments of my original inspiration of Post-punk Guitar Rock. On this album 'Swamp Street Soul', I think I have had an invaluable opportunity to achieve this by using all the inspiration I've picked up from my solo journey," says Harry Stafford.
"Despite not being able to practice and work with the band, we have made the absolute best time we could in the last two years, snatching rehearsals and recording time. But ultimately the band clicked, and we were able to put together an album that is both a progression and a statement of perpetual quality and undying cool."
'Swamp Street Soul' takes us across a tightly euphoric path of differing moods and new arenas of guitar songwriting. This long-player continues the band's explosive exploration of goth-punk and death-rock and trash blues with epic cautionary ballads. Frontman Harry Stafford has written a fulsome collection of tall tales of madness, fearfully larger-than-life characters and extravagant yarns, backed by a no-nonsense rhythm section locked into a pounding backbeat.
Produced by Simon 'Ding' Archer (The Fall, PJ Harvey) at 6Db Studios, the clarity and fullness of sound on this new album surpasses that of any previous Inca release. This 11-track offering includes a re-visitation of 'Crawling Garage Gasoline', originally released on the 'Surfin' in Locustland' EP back in 1985 and also recorded for the Incas' third John Peel session in June that year.
Prior to this, the band's latest set of releases made up the Death Blues Trilogy, which included the albums 'Death Message Blues' (2010), 'Deep Dark Blue' (2012) and 'The Stereo Plan' (2014).
Originally comprised of Harry Stafford (guitar), Bill Marten ( bass), Mike Keeble (vocals) and Pete Bogg (drums), Inca Babies' story began in 1983 in the now-legendary deck-access flats of Hulme in Manchester, which were intended as 'cities in the sky' for young executives but quickly became cockroach-infested slums mostly inhabited by students, artists, and drug addicts. True to DIY ethos, from here, they released their 1984 debut single 'Interior' on their own Black Lagoon label.
A vibrant part of Britain's early postpunk / goth /death rock scene, they amassed a steady following through touring and by releasing a further six singles and four albums over the next five years, all of which entered the UK Indie Charts. They also recorded four sessions for BBC's legendary John Peel show between 1984 and 1988 before calling it quits that year.
Since reforming in 2007, they have released three albums while touring extensively around Europe, into Russia and as far away as North America and India. Renewed interest in the Incas was propelled by Cherry Red Records 'Best of' compilation release 'Inca Babies 1983-87: Plutonium'. Sadly, in 2008, Bill Marten died and, despite the enormous loss, they decided to continue with Vince Hunt on bass.
On October 19, 'Walk In The Part' will be available digitally everywhere, including Spotify, Apple Music and Bandcamp. The 'Swamp Street Soul' album will be released on CD and digitally on November 23. It can be pre-ordered via Bandcamp and also via Louder Than War
Just ahead of that, on November 19, Inca Babies performs at Westgarth Social Club, Middlesbrough as part of the Peel Regenerated night, alongside 1919, The Wolfhounds, Rudi Betamax & TSTP. Advance tickets are available now HERE
CREDITS
Harry Stafford – guitar, vocals
Vince Hunt – bass
Rob Haynes – drums
Kevin Davy – trumpet
Black Lagoon Records catalog #BLRCD0058
Photography by Steve Nicholl
While you are here, also check out their latest two albums:
Inca Babies
Bandcamp
Facebook
Twitter
SoundCloud
Instagram
YouTube
Spotify
Apple Music