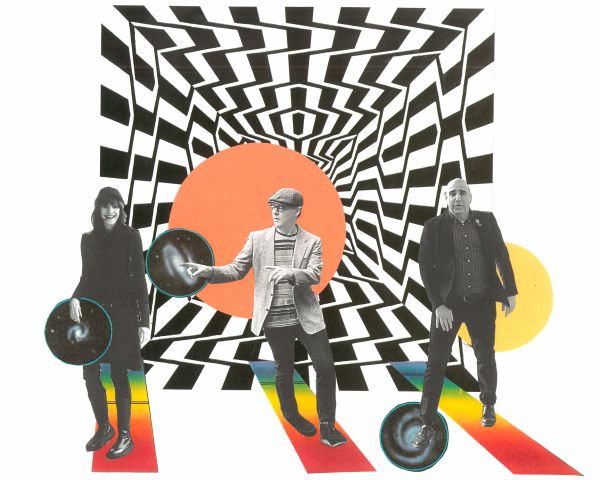 23 February 2021
The Orange Peels (L-R): Jill Pries, Allen Clapp, Gabriel Coan. Photo collage by Nereida Dusten
After a year where the real turned surreal, and reality itself seemed up for grabs, music was a refuge for the three members of The Orange Peels: Allen Clapp (vocals, guitars, synthesizers), Gabriel Coan (drums, programming, synthesizers), and Jill Pries (bass).
Even without the lockdowns, confusion, and fear of the global pandemic, the band went through the wringer. Clapp lost his father to cancer just prior to quarantine. And before summer was out, his mother was gone too.
Then the band's Santa Cruz Mountains studio and headquarters was nearly lost to the worst wildfires in California's recorded history. Clapp and Pries escaped with their 8 animals and the hard drive containing the new recordings.
"When you spend weeks wondering if you have a place to live, or even an address, it changes you," Clapp says. "You have to forget your old life to a certain extent just to keep moving forward."
And during all of this, they were making the music that would become the band's first double album, Celebrate the Moments of Your Life.
There are songs about death, love and healing, empathy and estrangement, questioning humanity, and an epic three-part meditation that introduces the idea that maybe we're finally about to see a light at the end of the tunnel.
The sound of the album follows the shifts in tone and topic with both ease and surprise. There are drummers and drum machines, distorted guitars and fuzz bass, and a gossamer tapestry of synthesizer atmospheres.
There are also string arrangements courtesy of composer Mike Brown (who worked with the band on "Dawn Tree" from 2018's Trespassing) that push the whole album into a stately territory reminiscent of the classic pop from the '80s.
The fact that this album was basically made by just three people makes it all the more ambitious. The band parted ways with guitarist John Moremen (Matthew Sweet), in 2019 and made the conscious choice to not replace him.
Celebrate the Moments of Your Life is the end result, an ever-changing mood-ring of an album that dives and soars, darts and hovers, grieves and hopes.
On the subject of sorrow, "Give My Regards to Rufus," which Big Takeover is pleased to host the premiere of today, is a restive lament for the dearly departed that's couched in sweeping symphonic pop sonics.
The song swirls with poignant strings reverberation, contemplative synth notes, and understated guitar and bass lines. Clapp sings passionately, both pressing and warm in his delivery, as he reflects upon a loved one.
The band reveal insightful details about "Give My Regards to Rufus," explaining, "A semi-fictional deathbed conversation between a son and his dying father. Imagined advice that was lived, but never spoken. And a request to those who have gone before: If you see him, say hello."
"The urgency of the track is a reminder: There's no time to waste."
"The strings (courtesy of a Mike Brown arrangement) come in right after the first snare hit, with a distinct Britishness that hearkens back to Ralph Vaughan Williams as much as vintage Paul Buckmaster."
"The push and pull of rhythm and melody intertwine like disparate souls achieving harmony."
"The feeling reminiscent of the mid-tempo epics of our youth."
"And just like life, it's over too soon."
"You've got to live on purpose."
Website
Facebook
Twitter
Instagram
YouTube
Bandcamp