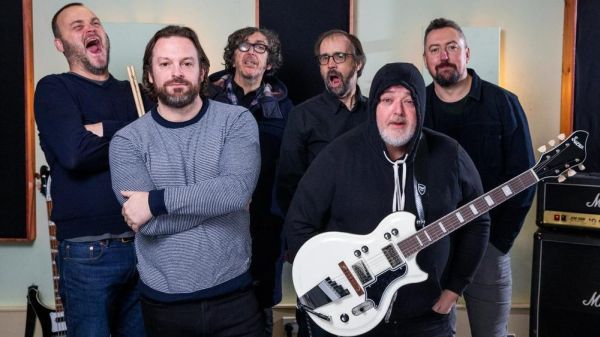 28 July 2021
Fat Cops – Photo Credit: Chris McGlynn
Record Label Last Night From Glasglow is proud to present the brand new single from Fat Cops, produced and mixed by Norman Blake of Teenage Fanclub, "High Expectations" featuring the vocal stylings of Loki – The Scottish Rapper.
And Big Takeover is equally pleased to host the premiere of its accompanying music video. The storytelling song exudes a classic summer groove, and is a guaranteed earworm, if ever such a thing could be guaranteed.
The narrative music video follows a man after a night spent searching out his various desires, only to feel like he's woken up at the bottom of a well (or maybe in hell?) the next morning. He searches out a priest for a confession – and maybe salvation. Will he ever get it…?
Specializing in what they describe as "hip-shakin', garage groovin', punk-glam chaos", Fat Cops are a six-piece featuring Chris Deerin [lead vocals], Robert Hodgens aka Bobby Bluebell [guitars and vocals], Chris "Bass Chris" Ayre [bass and vocals], Euan McColm [guitars], Al Murray [drums and vocals], and Neil Murray [keys].
Fat Cops released their debut album in 2019 to cries of "Really?", "Who, You Say?,"_ and "That's Not Half Bad," therefore LNFG shall release 4 new singles in 2021 and collect them all together in one lovely collectors vinyl EP in early 2022 before moving on to release the band's second album later in the same year.
Live shows and videos will follow shortly.
Website
Facebook
Twitter
Instagram
Last Night From Glasgow Website