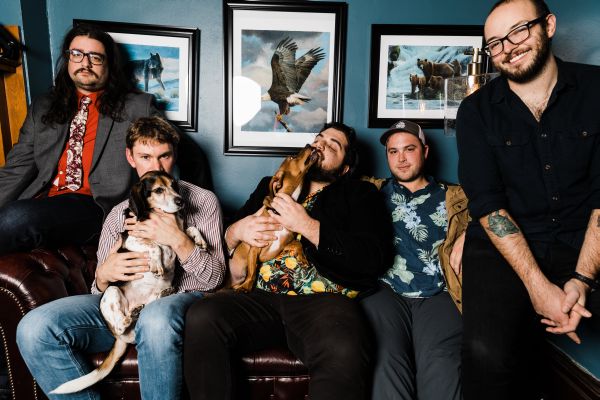 16 December 2019
Flower Crown – Photo Credit: Ben Prisbylla
The Pittsburgh, PA dream-pop ensemble Flower Crown began as a duo endeavor; a side project started by Richie Colosimo and Aaron Mook in late 2015. Reverb-heavy and esoteric, delving into the ironic and heartfelt, the pair released their Hypnausea EP in 2016 and debut album Glow in 2017.
This year they shifted to a full-band sound in preparation for the release of their album Sundries, welcoming Chris Sexauer, Mike Iverson, Jon Sampson, and Zach Bronder into the fold.
The release of Sundries brought many blessings: a wild release show, a week-long summer tour, a Northern weekender, a festival appearance, multiple live sessions, a compilation appearance, critical support, and an active presence in the Pittsburgh music scene.
It only made sense to cap off the year with one more track. The band recorded "High Fantasy" at Mr. Smalls Studio in October, building on the lush, atmospheric pop captured in Sundries with streaking guitar and reverb-drenched harmonies.
The single was celebrated at Spirit in Pittsburgh on its release day (Dec. 13th) with local faves Side Sleeper and Century III.
The Big Takeover is delighted to host the premiere of its fun accompanying video, a recent chronicle of the band members' experiences and shenanigans on the road over several days in November.
The gritty and chuckle-worthy reality of the touring lifestyle is documented in contrast to the dreamy fantasy of the song's languorous atmosphere. As footage of the band members goof off, play gigs, and haul their stuff rolls on, dream-pop guitar chime, hazily melodic vocals, bass line undercurrent, and laid-back drum pace lifts the mind into the drifting clouds…